D-Link Canada launched Wireless Tri-Band Gigabit Router (DIR-890L)
Posted on: 6 December 2014
By:

chw staff
D-Link Canada has launched a new line of high-performance home networking devices with the Wireless AC3200 Tri-Band Gigabit Router (DIR-890L). Packed with advanced features, the DIR-890L router was designed to keep both the latest and legacy Wi-Fi devices running at peak performance.  It combines Tri-Band wireless connectivity with SmartConnect technology to distribute Wi-Fi traffic over three Wi-Fi radios giving you improved performance and reliability.  For those who have suffered from Wi-Fi weak spots or dead zones in the home.  The Wireless AC3200 Tri-Band Gigabit Router features Advanced AC SmartBeam technology which tracks your connected devices and focuses signals towards them for superior Wi-Fi speed and coverage inside and around the largest of homes.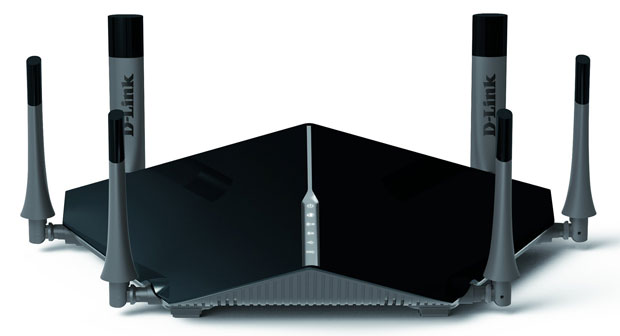 SmartConnect technology automatically assigns each device on your network to the Wi-Fi radio where it can connect at its best possible speed. This ensures that older wireless devices do not degrade the overall performance of your network allowing faster devices to hit their top speed.  Combine this with a powerful amplifier, and 6 high-gain antennas you get enhanced Wi-Fi coverage like never before.  Furthermore, the Wireless AC3200 Router is equipped with an advanced QoS engine for smart traffic prioritization, dual-core processor, dual USB ports with mydlink SharePort, and four gigabit Ethernet ports for ultra-fast connectivity.
In addition to its range of advanced features for supreme performance, the Wireless AC3200 Tri-Band Gigabit Router (DIR-890L) features D-Link's new graphical user interface that makes it easier than ever to control a network right from a smartphone or tablet. Enabling parental controls, blocking unwanted devices, monitoring internet activity and creating Wi-Fi guest networks has never been simpler. The router also supports simple setup using a mobile phone or tablet with the free Quick Router Setup (QRS) app.
"With the growing number of connected devices in the home, yesterday's router just can't handle the ever increasing demands put on it. A lot of people don't realize it, but the average home has close to 10 connected devices running at the same time. As the adoption of home automation increases, you can expect to see that number skyrocket," said Lou Reda, President of D-Link Canada. "For that reason alone, people need to look at their router as the central hub for their connected home and understand that if it doesn't have the power to handle all these devices, they will have a poor connected home experience. The new Wireless AC3200 Tri-Band Gigabit Router was designed with three main goals in mind; giving customers more speed, more Wi-Fi coverage, and the power to handle more connected devices. We've accomplished that with this new Ultra Performance Series router."