Integrate your Home Media with Linksys Media Hub Home
Posted on: 17 March 2009
By:

chw staff
The new Linksys by Cisco Media Hub Home is a complete connected home solution for those who want to have a hub for all your media files, whether its music, photos or any other digital media. The Linksys Media Hub allows you to share your media around the home and throughout the world – the system is shipped with massive capacity, intelligent aggregation, and media-optimized sharing and file-serving capabilities.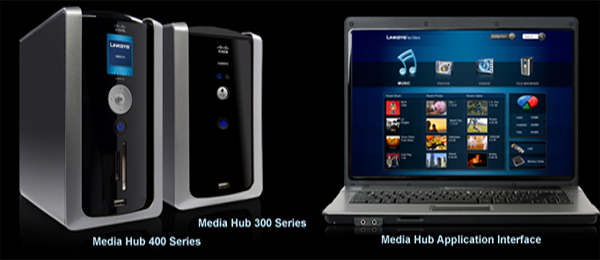 The Linksys connected home solution act intelligently to find the different media types across your home network. The Media Hub will find these media and store them in a central location, where you can backup to avoid data loss.  You can chose the backup your system manually or automatic – should you forget.  The system storage starts at 500 GB or 1 TB model and is expandable should you need more space.
The is shipped with web access integrated; so there is no need to burn your yours photos and snail mail or email them, there is the 'remote hosted by Cisco, you can give out your media hub's web address so your friends or family can view them in the same place. Your can upload/down your media content while on while on the go. The Linksys Media Hub (400 series) comes with a USB2 and a SD card reader built in.
All the functionality of the Media Hub is manage from your PC or laptop. You can watch view you digital information from your TV. If you have a PlayStation3, XBOX 360 or other media extender/DMA, you can stream movies and slideshows from the Media Hub to your TV.  The Media Hub is UPnP-enabled wireless music bridges or receivers, including Linksys by Cisco Wireless Home Audio systems, can play digital music stored on your Media Hub. The Media Hub system ia available at Amazon