ARCHOS Offers New Smart Home Tablet Gateway
Posted on: 29 December 2014
By:

chw staff
Open, Simple and Accessible this is how ARCHOS describes its latest smart home solution, the ARCHOS Smart Home Tablet Gateway.   The new solution is design to become the central control centre in the smart home of the future. It offers  long list of connectivity with other smart device not manufactured by ARCHOS, so users can mix and match the devices they use in their smart home.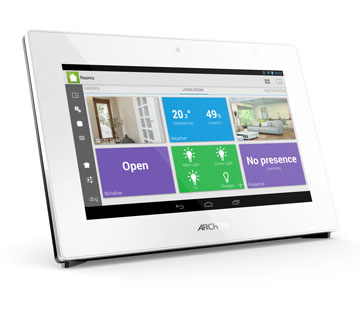 The ARCHOS Smart Home gateway features what ARCHOS, called "Learn & Control", where users can connect and control devices such as: shutters, garage doors, plugs, lamps from their tablet or smartphone inside and outside the home. It is compatible with FOSCAM cameras to allow users to stream video images directly on their smartphone or tablet.  The platform is Android base, making easy for other devices to connect.
Is this a push by ARCHOS to become the OS for the future smart home? They didn't say it directly but they are inviting smart device manufacturers to join and plug their devices into their smart home platform.  Loic Poirier, CEO of Archos also said, "With the open Smart Home system, Archos is aiming to be a leading player in the home of the future".
ARCHOS has also opened its tablet and the SmartHome application to IFTTT (the popular online system letting anyone create a simple \"If This, Then That\" recipe between objects and online tools).  For example, switch on your nest thermostat or the light form your Twitter account.
The Archos Smart Home Tablet Gateway will be available from US $99.99.  They are available on Amazon.com.  ARCHOS and its entire selection of Connected Devices will be exhibiting at CES 2015 at Sands Expo Hall A-C, Booth 70437.