Asus Selected Amimon WHDI For Wireless HDTV Kit WiCast
Posted on: 31 August 2010
By:

chw staff
Asus is to launch a new HD wireless connector called the WiCast EW2000- WiCast for short.  The device is based on WHDI (Wireless Home Digital Interface) technology developed by Amimon, a developer of wireless HDTV semiconductor solutions.  The WiCast is design to enable households and business to project whatever is on a PC (desktop, Laptop or Notebook) screen onto a television or LCD Monitor screen wirelessly.
Amimon, who made the announcement said the new Amimon based WiCast users will be able to enjoy full interactive content such as internet video, PC games, flash media, and digital photos with no noticeable latency (less than 1 millisecond). The source PC can be up to 33 feet away from the televion.  In addition to PCs, the WiCast can connect to any source device with an HDMI port such as set-top-boxes (STBs) and gaming consoles to enable a wireless connection from devices with HDMI ports.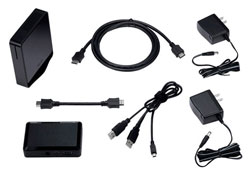 The ASUS WiCast products will feature AMIMON's second generation chipset, AMN2120/2220, enabling robust, high-quality wireless 1080p 60Hz in the 5GHz unlicensed band. The HD wireless video technology from AMIMON is the basis of the WHDI standard.
 "WHDI, with its high quality, low latency and low power consumption, is the only solution that will enable all portable computing, gaming and HD source devices to wirelessly connect to TVs," said David Shefler, vice president of sales and business development for AMIMON. "ASUS is the first to offer consumers wireless PC to TV products based on AMIMON's WHDI technology.   Several other PC to TV connectivity products will be launched later this year, including notebooks and tablet PCs with embedded WHDI modules."
See Also: WHDI Standard To Include 3D Streaming Followed by Version 2.0 Upgrade
 
WiCast Specifications
Product
ASUS WiCast
Model
EW2000-NA
SKU
Transmitter, receiver
Color
Black
Interface
HDMI
Video
Up to 1080p 60HZ, under 1 ms latency
Audio
Up to 8 channels
Wireless HDMI Technology
WHDI
Transmission Distance
Up to 33 feet
Operation Frequency
5.15~5.85GHz
Data Rate
3G bps
Power Supply
Transmitter: 5V, 2A 10W adapter (if USB power is not available), receiver: 5V, 2A 10W adapter
Power Consumption
Transmitter: 4.75W (powered by USB), Receiver: 10W
Input/Output
Transmitter: 1 x HDMI port, 1 x mini USB, 1 x DC in, receiver: 1 x HDMI port ,1 x DC in
Accessory
Transmitter: 1 mini USB cable, 1 x HDMI cable , 1 x adapter, receiver: 1 x HDMI cable, 1x adapter
Weight
Transmitter: 0.242 lbs., receiver: 0.352 lbs.
Dimensions
Transmitter: 4.05 inches, (L) x 2.67 inches (W) x 1.12 inches (H), receiver: 4.13 inches (L) x 0.98 inches (W) x 4.9 inches (H)