Bewan's New iBox C5200 Multiplay Residential Gateway
Posted on: 1 September 2009
By:

Patrick Oliphant

Bewan announced the new Bewan iBox C5200 (image) solution a truly multi-play cable gateway designed to enable cable operators and multi-service operators (MSO) to deliver blazing broadband speeds and media-rich services to subscribers. The solution comes with Bewan Licensing Program, a residential gateway firmware that enables strict control of operational expenditure (OPEX) and reduces significantly customer support costs.
The Bewan iBox C5200 is a high quality design EURO-DOCSIS(R)/DOCSIS(R) 3.0 wireless eMTA residential gateway that is based on the Texas Instruments' Puma 5 family of DOCSIS(R) 3.0(R) products. Cisco has also announced that they will be using their Medianet cable service provider to deliver next generation digital home content. The medianet service provider is an intelligent network optimized for rich media that can help drive video strategy for enterprises, consumers and service providers.
Technical Information
This new solution integrates a cable modem to implement directly VoIP phone calls through the Cable Modem Broadband Services thanks to its built-in PacketCable 1.5 compliant specification. Equipped with two standard phone ports, it can easily provide low-cost long distance calling, faxing and many advanced services. Featuring a 4-port Gigabit Ethernet switch as well as an IEEE 802.11n wireless access point that meets the most stringent encryption requirements (WEP, WPA/2), Bewan iBox C5200 offers all the functionalities of a Wireless Residential or SoHo Cable Modem.
Bewan iBox C5200 supports the SNMP protocol that allows operators to manage and update their installed base remotely. It also supports the TR-069 that easily manages and controls the digital home certified accessories and applications for a highly efficient control of the entire operator's Value Added Services offering. This function is crucial as it provides a simple and cost-efficient way of launching new services and rolling out software updates for subscribers' modems, ensuring optimum ROI.
With one USB port integrated on the electronic board, the iBox C5200 enables operators to offer subscribers local or remote file sharing, printer accessibility, video surveillance system control as well as immediate, continuous access to the Internet.
The iBox C5200 comes with Bewan Software, a user-friendly GUI interface that help customers and technical support teams to perform network diagnostics very easily. In addition, using the same firmware units for the Cable, the DSL gateways and the accessories (PLC, IP cameras, access points, IAD, etc.) means lower training costs for hotliners, who can use a unique command line interface.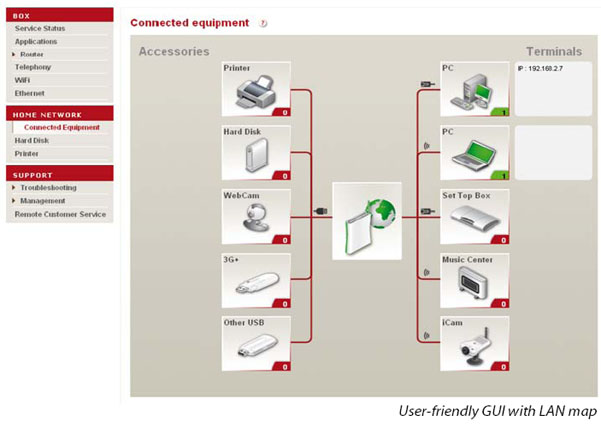 iBox C5200 and Bewan Home Center
Bewan iBox C5200 also comes with Bewan HomeCenter, a best-in-class application that enables users to organise their files into photo albums and video libraries. The personal web site is automatically created and published on the Internet and the content can be shared.
With Bewan HomeCenter, users can also create their very own digital jukebox by simply gathering musics on the USB disk and connect it to the iBox to make their own compilations. They can listen to them at home or over the Internet and share them by allowing friends to access the HomeCenter through the Internet.
The iBox C5200 and Bewan HomeCenter have been designed to allow users to retain control over their home's automated systems even when they're out or travelling. All that's required is access to the Internet or a mobile phone to communicate with the iBox and find out the status of the home systems connected (environmental sensors, security sensors, remote control power switches, IP cameras, etc).  You can read more about the iBox C5200 here.
Related stories: