Western Digital Adds Netflix and MediaFly to WD TV Live Media Player
Posted on: 9 June 2010
By:

Patrick Oliphant
Western Digital has release its latest digital home solutions in WD TV Live.  The new release feature top on-demand entertainment services from Netflix and MediaFly among others. Through the new WD TV Live Plus HD Media Player you can browse the latest movies and videos from Netflix and add them to your Instant Queue then stream them to connected TV. With MediaFly you have access to daily podcasts from CNN, ESPN, MTV and NBC.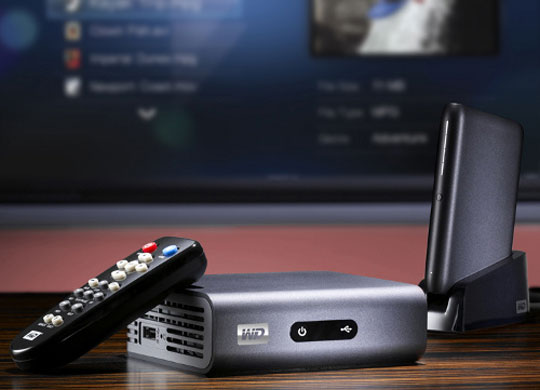 Most importantly the DLNA-compliant WD TV Live Plus links to personalized connect through a variety of storage platforms using a wired or wireless in-home network. It can access entertainment content from networked PCs in the home to play music, videos and digital photo files. A Windows 7 compatible "Play To" feature enables streaming Windows 7 computer files to the TV through WD TV Plus HD media player.
Compatible file formats include: AVI (Xvid, AVC, MPEG1/2/4), MPG/MPEG, VOB, MKV (h.264, x.264, AVC, MPEG1/2/4, VC-1), TS/TP/M2T (MPEG1/2/4, AVC, VC-1), MP4/MOV (MPEG4, h.264), M2TS and WMV9 video format; and JPEG, GIF, TIF/TIFF, BMP and PNG image formats.  It also supports MP3, WAV/PCM/LPCM, WMA, AAC, FLAC, MKA, AIF/AIFF, OGG, Dolby Digital and DTS music formats.
It features an Ethernet, HDMI, component Y/Pb/Pr, composite A/V and USB 2.0 interface. A SPDIF digital output is added to send digital audio signals to a compatible receiver for surround-sound playback, where HDMI connections are not available.
To connect to in-home Wi-Fi networks, users need only connect an optional, compatible USB Wi-Fi adapter. A special USB 2.0 port is provided on the side of the unit for that purpose.