Denon Released AV Receivers for 100th Anniversary
Posted on: 29 April 2010
By:

Patrick Oliphant
As part of their 100th anniversary Denon as announced the release of ten AV Receivers. They are release as part of the Retail Home Theater series and should be in the shops in the next coming months. These new models feature significant enhancement over previous models, first of all they come with HDMI 1.4s Repeater Inputs with 3D - as standard, Consumer Electronics Control (CEC) support and Audio Return Channel.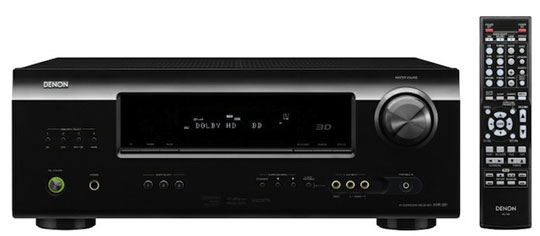 Also available is an analog-to-HDMI conversion and DTS and Dolby High Definition Audio decoding, with the exception of AVR-391. There is connectivity for the Apple iPod for all models. Models AVR-1911, AVR-791 and higher offers iPod Digital Direct via USB which can also work on iPhone.
All models offer Dolby Pro logic 11z decoding as standard. Also included are Dolby TruHD and DTS-H Master audio decoding to offer the best quality sound, the highest performance in advance High Definition audio programming. The highest of the Retail Home Theater are the CI models especially the AVR-99, which features Audyssey DSX with Front Height or Width Channels with Sirius Satellite Radio Ready capability, as well as being the least expensive Denon AVR with advanced networking that adds an RJ-45 Ethernet Port for third-party controllers, Mac/PC audio streaming, Internet Radio, Pandora, Flickr, a Web browser function and more.
AVR-1911 and AVR-1611: Multi-Zone Functionality, HD Radio and More
Models AVR-1911 and AVR-1611 have 7-channels and offer full two-zone A/V distribution capabilities, allowing you to enjoy a movie in full surround sound in the living room while listening to music distributed to the bedroom. The AVR-1911 adds the advanced capability of a built-in HD Radio tuner, as well as iPod Direct Connectivity via USB and the most advanced Anchor Bay Technologies video deinterlacing and upscaling chipset for converting SD sources to HD.