HAI Intercom Now On OmniTouch 5.7e Touchscreens
Posted on: 9 November 2010
By:

chw staff
HAI, an integrated security and home automation solution manufacture and the developer of the Snap-Link for iPad announced that the HAI Intercom on the OmniTouch 5.7e Touchscreens is now available along with Helios 2N IP Door Station connectivity. The company said the new OmniTouch 5.7e Touchscreens will be shipped with intercom capability and existing homes with OmniTouch 5.7e can be updated to provide Touchscreen-to-Touchscreen communication.
The VoIP (Voice over Internet Protocol) intercom solution features manual accept/reject options,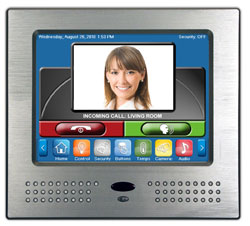 control of intercom volume levels (for both voice levels and ring levels), and the ability to auto-answer. To ensure privacy, the intercom also features a do-not-disturb mode.
With integration from 2N Helios, users can both speak with and see their guest using its video streaming capability. Again with its integrated SIP protocol and 2N Helios a full range of VoIP services are available, such as call forwarding (to another office, to the Voicemail system or a cellular phone) or call switching.
Intercom functionality for OmniTouch 10pe Portable Touchscreens and OmniTouchPro interface software for third-party Windows Touchscreens is expected to be available in early 2011.