How Qualcomm is Changing Health Services
Posted on: 25 December 2014
By:

Patrick Oliphant
Many of us will be familiar with Qualcomm through the use of our mobile devices but that is just one area the company is active in. Via its Qualcommlife subsidiary it is actively changing how health services are being offered and managed. Through innovative technologies the traditional way of diagnosing health issues and patient and doctor relationship are being revolutionise.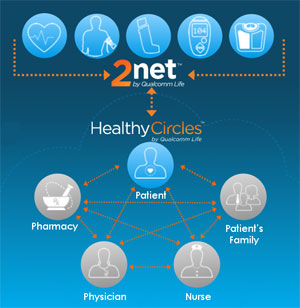 Qualcomm Life's connected health solutions, 2net and HealthyCircles are being integrated into everyday health device and services.  A visit to their website will show you the number of health service providers that are using Qualcomm Life's technologies to improve and change the way they work with patients.
2net and HealthyCircles are two parts of a complete connected health solution, health care service providers.  2net the embedded solution works with other devices to gather data and provide connectivity; while HealthyCircles is the middleware between 2net and the service provider's IT systems or users.  Both solutions are integral to providing remote patient monitoring solutions.
The health service is moving into what is classified as the biometric data era.  We are moving into an era where wearable devices are used to gather data about our health and then using this data to diagnose health issues are to provide quick response to emergencies. This can be seen outside of the core health service sector through steps Apple (HealthKit) and Samsung (Digital Health) have made. Both companies have developed health related framework for their mobile devices.
Another industry push is to reduce the number of hospital readmissions and to provide where possible healthcare into the comfort of the patient's home.
Using 2net and HealthyCircles  Qualcomm Life has been able to work with ResMed  the developer of medical equipment for sleep-disordered breathing and other respiratory disorders to integrate 2net. The 2net Hub will work with ResMed's  Astral 100 and Astral 150 life support ventilators to capture and transfer near real-time biometric data to the HealthyCircles system, where care teams can monitor and manage patients.
Qualcomm Life, said they have more than 400 companies in the Qualcomm Life Ecosystem, and thinks it is already positioned to reinvent health care by shifting connected health solutions from a novel technology to a standard of care.
Qualcomm envisage the integration of chronic disease management programs and devices such as blood pressure monitors, spirometers, pulse oximeters, thermometers, weight scales and glucosemeters  into its 2net and HealthyCircles  platforms and the service develops.
Industry experts believe that using technology in this way is just a tip of the iceberg; think beyond the simple fitness band or heart rate monitor.  Think of your GP or hospital giving you clothes to wear or un-dissolvable pills to take. Within these are micro machines gathering data from your body to help them better treat your illness or provide better care.  These micro-machines will be connected to or communicating with systems like 2net to transfer this data.