Can Google Chromecast TV Survive?
Posted on: 2 November 2013
By:

Patrick Oliphant
Google seems not to have given up on making a much bigger impact on the television and home entertainment market than it did with the Google TV.  Their latest attempt is Chromecast TV, a television dongle that transform your ordinary TV into one that can connected to the internet directly and smarter.  Chromecast TV is Promises to be a simple and intuitive solution to having a smart TV and only priced at US$35.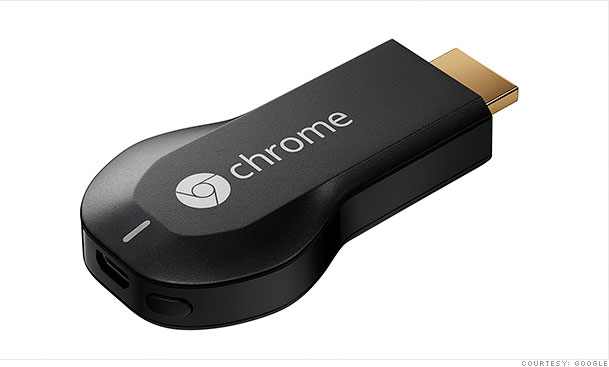 Chromecast TV like the Google TV is running a stripped down version of the Chrome OS but your TV doesn't need to be Android or Chrome compatible to work, all it needs is to have the right connection, a HDMI port.
How Chromecast work is, you plug it into your television; it then connects to your home Wi-Fi, after you configure it. From here you have the ability t stream content to your TV from the web with your smartphone, computer or tablet acting as the remote control. Once everything is connected and you want to watch say, YouTube, you will see the "cast" button to play a video on the TV.  Chromecast works independently to pull content from the internet to play on the TV, leaving you Tablet, PC or Phone free to do other things.
With Chromecast you can stream content from YouTube, Netflix (this come a one month free subsription) and Google Play music, you can also stream content from your phone, PC or tablet.  To operate Chromecast all you need is an app, there is for Apple iOS and Android.  At the time of launch there were no app for Windows Phone or Blackberry, we will have to wait to see if this changes in the future.
My Thoughts
There is no doubt that Chromecast its competitively priced, at US$35 it is one if not cheapest smart TV solutions on the market right now.  However, I think they have entered an area that is saturated, when you look at the market size. The leading television manufacturers already offer their smart TV solutions, even Sony who partnered to make the Google TV have their own Bravia smart TV platform.  So, if consumers have to buy a smart TV solution I think they are more likely to buy it out of the box.
For those who want a solution that is relatively cheap and simple they are going to compare the likes of Apple TV, Roku, NOW TV and other similar video streaming solutions with Chromecast.  As one writer pointed out, to start you need a smartphone, PC or tablet to use the Chromecast and although most homes already have at least one of those devices, there are those who just want to watch TV and not wanting to bother with the need to setup.  For these people just having a remote and a box will be there preferred choice. Also, for now Chromecast lacks content – it needs more content to compete and that's going to take time.
Google for the last few years have made continued efforts to carve out a comfortable portion of the home entertainment and connected home market. They have tried by offering energy management services with Google PowerMeter, they later closed it because of lack of interest.  Another attempt was through a device – Google TV, which according to some analyst has not made the impact that Google wanted to. Remember Android@Home this was a platform aim at developers encouraging them to develop solutions for the connected home, I have not heard much about it lately. The big move was the acquisition of Motorola Mobility which previously acquired 4Home it was later sold to ARRIS for 2.35 billion.
Looking at Google's past attempt at this market, I will say the odds are stock againts Chromecast TV, but you never know this might be their lucky break. So, I will wait to see how Google will take it forward and if Chromecast will get the support or get swallowed up by the competition.