The Latest and Best HD 3D Home Theatre Projectors
Posted on: 26 September 2010
By:

chw staff

This month CEDIA show saw the release of some of the world's best home theatre projectors from Sony, Epson, Mitsubishi and LG Electronics. Sony introduced the company's first 3D front projector (VPL-VW90ES); Mitsubishi debuts its entry level HC4000 HD home theatre projector; LG Electronics introduced a dual engine single lens full HD 3D projector and Epson, released a total of seven projectors in the PowerLite Pro Cinema range.
Sony
The VPL-VW90ES is the first projector to be included in Sony's Elevated Standard (ES) range which already has AV Receivers and Blu-ray players. Adding the VPL-VW90ES to the ES moniker said Sony signifies an emphasis on high build quality and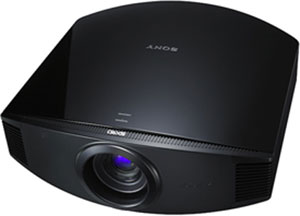 outstanding video experience. This and all the other products in the ES range are only available form Sony authorized installers and specialty dealers.
The VPL-VW90ES is a Silicon X-tal Reflective Display (SXRD™) full HD (1920 x 1080) projector with Sony's 24p True Cinema which delivers cinematic performance.  It uses a single Ultra High Performance (UHP) lamp that drives brightness of 1,000 ANSI lumens and delivers a sharp, deep black picture thanks to Sony's Advanced Iris 3™ technology that helps to produce a dynamic contrast ratio of 150,000:1.
The VPL-VW90ES is Control4 Certified and includes an AMX Device Discovery Beacon it integrates easily with leading home automation systems including Control4, Crestron, AMX, Savant, Ultimate Remote Control, RTI, Vantage, and others.
The VPL-VW90ES SXRD 3D front projector comes equipped with two pairs of Sony active shutter 3D glasses that are also compatible with Sony's 3D capable BRAVIA HDTVs and a built-in 3D transmitter it is due out in November for an approximate price of $10,000.
Mitsubishi
For an entry level projector the HC4000 is estimated to cost $1495. Mitsubishi said the HC4000 offer excellent price-performance value for designed to meet the needs of first-time home-theatre and DIY home-theatre projector. The project is built with
Texas Instruments' latest 1080p DLP chip, the DarkChip 3 with BrilliantColor. It offers 1300 lumens and up to 750:1 ANSI contrast ratio, which enable users to enjoy high detail picture and colour depth for maximum video display impact.
Viewing widescreen (2.35:1) movies through the HC4000 is easy with the use of anamorphic lens. Simply position the anamorphic lens over the front of the HC4000 lens and select the appropriate Anamorphic Mode 1 or Mode 2, either 2.35:1 or 16:9 aspect ratios, for the corresponding movie format.
LG Electronics
The LG Electronics Full HD CF3D is a full HD Dual Engine Single Lens Type 3D projector that unlike other 3D projectors with two separate projectors it has two engines into one unit.  The CF3D offers brightness ratio of 2,500 ANSI-lumens for 2D viewing and 1,250 ANSI-lumens for 3D content.  The projector features a high contrast ratio of 7,000:1 and features TruMotion 120Hz for smoother images – a technology previously only seen on flat panel HDTVs.
The CF3D comes with six pairs of polarized 3D glasses (additional glasses sold separately).  To view 3D content, a 3D Blu-ray Disc player (or other 3D program source) and silver screen are required and sold separately.  LG's CF3D is available now with a manufacturer's suggested retail price of $14,999.99.
Epson
The seven projectors launched by Epson are PowerLite Pro Cinema 61000, 31000, 9350 and 9700 UB and Home Cinema 21000, 8350 and 8700 UB. The price for this wide range of projectors is between $7,000 and $2,000. The range features the world's first mega contrast ratio of up to 1,000,000:1 - PowerLite Pro Cinema 61000, and is split into three categories see the table below for more details.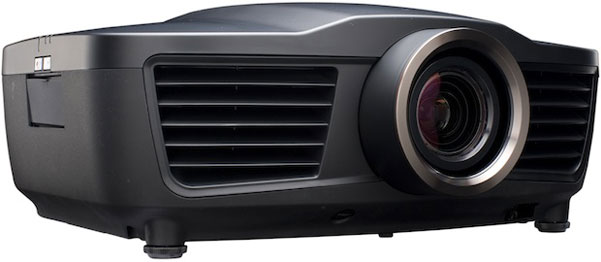 PowerLite Pro Cinema 61000
PowerLite Pro Cinema 61000 and 31000 and Home Cinema 21000
PowerLite Pro Cinema 9350 and 9700 UB
PowerLite Home Cinema 8350 and 8700 UB

* Native 1080p (1920x1080) resolution with newly developed 3LCD Reflective technology

* Small footprint and center lens design, as well as powered zoom, focus and lens shift (40 percent horizontal and 90 percent vertical) ensure a range of installation options and flexibility

* Includes two anamorphic lens (squeeze and wide) modes to enable 2.35:1 viewing without external processor; lens position memory for 2.40:1 Cinemascope screen

* Delivers outstanding video image quality with Fujinon OptiCinema™ Multi-Lens Optics System (2.1 zoom ratio); projects clean, precise edges with consistent image quality across the entire screen

* Projects brightness up to 1,200 color and white light output(iv) for the optimal visual experience

* Cinema Filter feature delivers larger color space for improved color fidelity

* Features two HDMI 1.4 inputs with Deep Color support, HDMI CEC for control of connected devices

* Offers five different color modes, including Dynamic, Living Room, Natural, Cinema, x.v.Color

* Epson's exclusive 200W E-TORL® (Epson Twin Optics Reflection Lamp provides optimum light uniformity and output for screen sizes larger than ten feet using less energy for up to 5,000 hours(v)

* ISF Calibration for customizable settings, new color modes, pre-set color space selection, and color isolation for easy color adjustment without color filter glasses (Pro Cinema 61000 and 3100 only)

* Spare lamp, ceiling mount, and cable cover included (Pro Cinema 6100 and 31000 only)

* Cinema Filter feature delivers larger color space for improved color fidelity

* Delivers outstanding video image quality with Fujinon OptiCinema™ Multi-Lens Optics System (2.1 zoom ratio); projects clean, precise edges with consistent image quality across the entire screen

* Real color reproduction feature delivers more natural and precise colors

* Epson's exclusive 200W E-TORL® (Epson Twin Optics Reflection Lamp) for up to 5,000 hours of lamp life(iv)

* ISF Calibration for customizable settings and color isolation for easy color adjustment without color filter glasses

* Features two HDMI 1.3 connections with Deep Color support, high definition component video input, S-video input, composite video input, and VGA-type RGB input (D-sub 15)

* Five Color Modes to easily adapt to different viewing environments

* Manual zoom, focus and lens shift (47.1 percent horizontal and 96.3 percent vertical) ensure a range of installation options and flexibility

* Includes spare lamp, ceiling mount, reversible front panel Epson logo for various mounting positions, rear panel cable cover to hide wires, and cable hook to secure connections

* Advanced, three-chip optical engine for brilliant color and image quality without color break-up

* Cinema Filter feature delivers larger color space for improved color fidelity

* Outstanding video image quality with Fujinon OptiCinema™ Multi-Lens Optics System (2.1 zoom ratio); projects clean, precise edges with consistent image quality across the entire screen

* Real color reproduction feature delivers more natural and precise colors

* Epson's exclusive 200W E-TORL® (Epson Twin Optics Reflection Lamp) for up to 5,000 hours of lamp life(iv)

* Features two HDMI 1.3 connections with Deep Color support, high definition component video input, S-video input, composite video input, and VGA-type RGB input (D-sub 15)

* Five Color Modes to easily adapt to different viewing environments

* Manual zoom, focus and lens shift (47.1 percent horizontal and 96.3 percent vertical) ensure a range of installation options and flexibility

* Stylish, sleek design featuring white casing and reversible Epson logo on the front panel allow the projector to be reoriented for tabletop, shelf and ceiling mounting