Meet Garmin Latest Wearable Techs, Tactix and Approach S62
Posted on: 27 February 2020
By:

chw staff
Garman recently released its newest line of smart watches featuring the latest in wearable technology.  The Tactix Delta, according to Garmin is built to military standards with many new features to support tactical functionality and outdoor navigation. The Approach S62, designed for golfers with GPS technology that integrates critical course information and full-color mapping, right on the golfer's wrist.  This can help you to navigate the most difficult golf courses.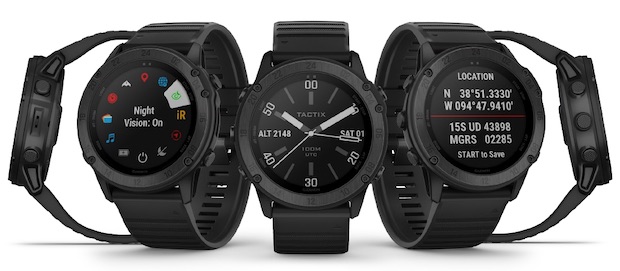 One of the coolest features to highlight in the Tactix Delta is its ability to go stealth mode, which disables storing and sharing of your location and a kill switch that erases all user memory.  It has a bigger display than its previous versions at 1.4inch, with a scratch-resistant domed sapphire lens and diamond-like carbon coated bezel.  Other additions include support for music storage, Garmin Pay and new Garmin wearable features like PacePro and Power Manager.
The Tactix offers both tactical functionality and outdoor navigation with advanced mapping, training features.  The Tactix Delta has a unique dual-position mode, which simultaneously displays two sets of coordinate systems on a single data screen, tactical activity profiles, waypoint projection, and Jumpmaster mode that helps calculate a high-altitude release point as well as guidance to the objective once the user has jumped.
New to the tactix Delta, the Power Manager feature allows the user to see and control how various settings and sensors impact battery life.  The battery remaining charge can be represented in hours and days to help determine whether the activity can last until the next charge. You can adjust the battery saving modes to disable certain features and extend battery life on the fly. Get up to 21 days of battery life in smartwatch mode, and up to 80 days in battery saver watch mode.
Out of the box, it is preloaded with topographic mapping and advanced navigation features, including a barometric altimeter, compass and multiple Global Navigation Satellite Systems support.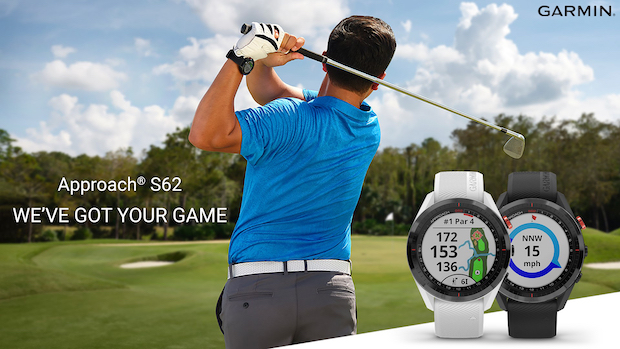 For the Approach S62, it too has its set of new features that helps to enhance a golfer's game, such as: PlaysLike Distance, Hazard View and introduces a Virtual Caddie to analyse critical factors such as wind speed, course layout, and a golfer's past swings to select the best suited club for each shot.
It too like to Tactix offers a larger display than the previous model, which makes it easier-to-read, and a scratch resistant ceramic bezel. Golfers can also take advantage of the Approach S62's longer battery life that can last up to 20 hours in GPS mode and up to 14 days in smartwatch mode.
The Approach S62 excels in its ability to help strategize and fine tune a golfer's game. When golfers are stranded with a blind shot and unable to see the pin, the Approach S62's PinPointer option shows players the exact direction to the pin.
The watch uses the PlaysLike Distance option to adjust yardages to compensate for uphill and downhill shots, and with Hazard View golfers can quickly scroll through each hazard on the map to acquire critical distance information and know exactly what to avoid during play.
Thanks to the Green View feature, no matter where the player is on the course, the watch will display each green's true shape and allow golfers to drag-and-drop the pin for better yardage accuracy. 
Avid players can gain even more insight into their game after pairing the Approach S62 with the Garmin Golf app for access to the new golf performance widget. Stats are calculated in the app and then sent to the watch so users can review handicap index, fairway and approach shot hit/miss percentage, and green in regulation percentage. The app even provides analysis for strokes gained and allows users to participate in leaderboards and tournaments with other players around the world.
The Approach S62 is available now with a suggested retail price of $499.99, and the Tactix Delta for $899.99.