Microsoft Boost Xbox Features With Xbox SmartGlass
Posted on: 29 June 2012
By:

admin
Microsoft has widened the functionality of its Xbox platform with the introduction of Xbox SmartGlass.  The new platform and update will allow the Xbox 360 to connect to your PCs, Phones and Tablets and show content. According to Microsoft SmartGlass will make "entertainment more engaging, web surfing more effortless and playing games more immersive", by delivering companion content and control to enhance a TV experience.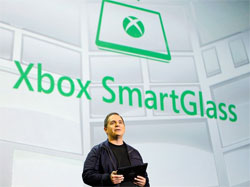 With SmartGlass your phone and tablet us updated with what you are watching on TV and present bonus features, something like BD Live but for mobile devices. You can also easily present a play list drawn up on a tablet on your TV or control your websites on the TV with a swipe, pinch or zoom a tablet's touchscreen.
"With Xbox SmartGlass, we are lighting up entertainment across your phone, tablet, PC and TV in a completely new way", said Don Mattrick, President of IEB at Microsoft.  "If you love to play games, watch TV and movies, surf the web or listen to music, there has never been a better time to be on Xbox".
Xbox will get its own Internet Explorer this quarter in all countries with Xbox and Xbox Live, said Microsoft.  There is a host of sport channels coming to the Xbox platform for users in the US and Worldwide.