Mvix USA Launched HDHome Entertainment System
Posted on: 26 May 2010
By:

Patrick Oliphant
Mvix USA launched new HD home entertainment system called HDHome.  The new Mvix HDHome brings together high definition home entertainment, gaming and home computing into one device; along with enough storage space to last a very long time. Built to offer Full 1080p HD picture and sound with support for the following file formats: 3GP, AAC, AVCHD, MPEG-4, WMV, and WMA.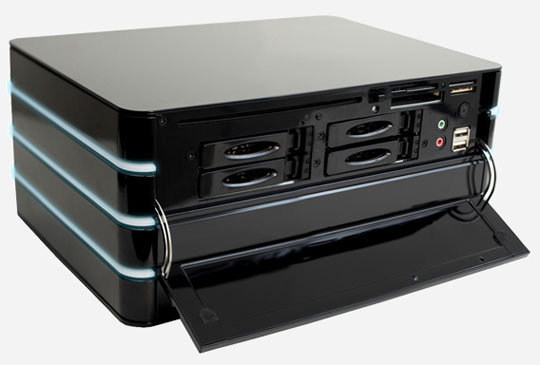 You can browse thousands of internet TV stations, watch Netflix, Hulu and easily share media across the home network. HDHome also works as the universal platform for PC-based gaming and multi-player online games.
There is an embedded slot-load Blu-ray player with PowerDVD. It provides an expandable storage capacity with RAID-enabled and hot-swappable HDD.
The Mvix comes in two models HDHome S2 (two disk bays) and HDHome S4 (four disk bays). Both models will feature 10/100/1000 network, Embedded Wireless-N, BD Drive, Media Card Slots, HDMI out, Optical Audio Out, TV Tuner.