NEC Adds 5.7MWh Energy Storage to UK Power Grid
Posted on: 8 June 2014
By:

Patrick Oliphant
NEC Energy Solutions, a subsidiary of NEC Corporation has completed the installation of 5.7MWh energy storage solution for the UK's Northern Powergrid.  The installations were across six sites including urban and rural locations as part of the Customer-Led Network Revolution (CLNR), an initiative pilot, test and develop a smart grid infrastructure across the UK.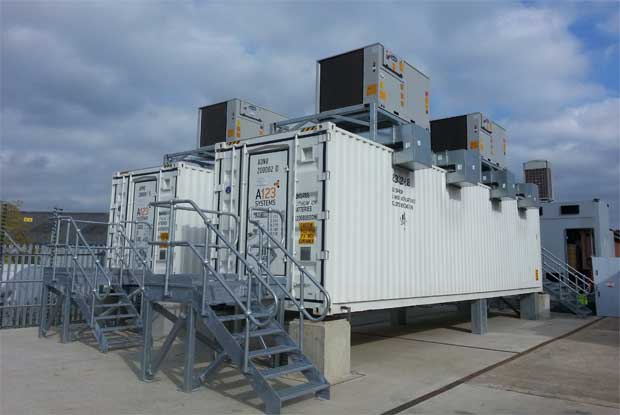 The GSS sites are stock with A123 Systems, company NEC recently acquired for $100 million.  NEC said, the six GSS sites have nearly 2.9MWh of power, with the largest, a 2.5MW, 5MWh GSS in Darlington, is located in an urban industrial area.  Energy storage is a key component of the CLNR smart grid project, and will be used to help integrate more solar and wind energy into the UK's electricity network, as well as supporting other low-carbon technologies.
To fit the needs of the project at four of the six sites, NEC Energy Solutions supplied lithium-ion based grid battery systems packaged in a variety of enclosures including standard 40-foot containers and smaller customized enclosures. The last two locations required energy storage systems installed directly into pre-existing buildings, and serve to demonstrate the flexibility of NEC Energy Solutions' modular and scalable designs.
The three-year £54 million project is funded by the Office of the Gas and Electricity Markets' (Ofgem) Low Carbon Networks Fund and is part of the UK's drive to develop its smart grid infrastructure.  The CLNR is partnership between the UK's leading energy suppliers setup to trial smart grid solutions.  The GSS sites is to test the grid reaction to the introduction of solar PC panels as part of energy infrastructure as well as electric cars and other low-carbon technologies.
Partners include British Gas who will supplier smart meters to around 14,000 homes in North East of England, with cities such as Durham, Leeds, Newcastle and Sheffield.
"This project enables distribution network operators in the U.K. to implement new technologies designed to increase energy efficiency and support the adoption of clean energy, which represents an excellent opportunity to showcase the flexibility of our products," said Bud Collins, CEO of NEC Energy Solutions.