NuForce Dia An All-in-One Digital Amplifier
Posted on: 24 November 2011
By:

chw staff

Are you struggling to get audio sound the match the picture quality on you TV? Well, NuForce think they have found the answer with their Dia All-in-One digital amplifier.  NuForce said the Dia is a digital audio converter (DAC) and amplifier for home audio/visual and streaming devices that disappoints in sound quality. For a small investment Dia can offer a much improved sound from your DVD player, TV and Blu-ray player.
Dia works by allowing you to plug your coaxial or optical cable from you AV system into.  Then using its 24W high-performance stereo power amplifier and audiophile-grade sound card it drives powerful, crystal-clear sound through your existing speakers and subwoofer offering the ultimate 2.1 Stereo experience.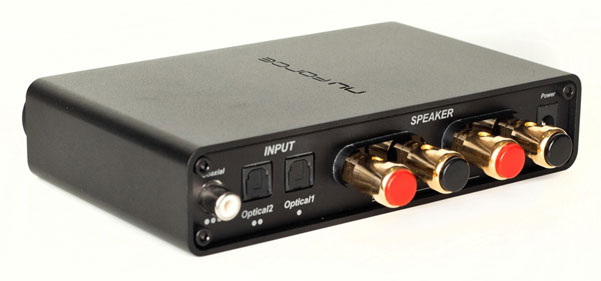 Dia will delay if not stop you needing to buy a home theater receiver. In its compact for it bypasses the digital-to-analog conversion process found in your home system and performs it separately, at a higher quality.
The NuForce Dia allows you connect any wireless media streaming device, such as Apple TV and AirPort Express, to form a compact, high-performance wireless AirPlay system.
NuForce Dia Specs:
Inputs
Digital: 2 x TOSLINK, 1 x RCA Coaxial 75-Ohm
Maximum sampling rate: 192kHz
Resolution: 24-bits
Outputs
Line Out (for Subwoofer) connection
Speaker Output: Peak power: 30W x 2 (4 Ohm)
Output power at 1% THD+N, A-weighted: 24W x 2 (4 Ohm), 18W x 2 (8 Ohm) Frequency response
20 to 20kHz +/- 1dB
SNR > 90dB A-weighted
THD+N: 0.02%
DC Requirement: 12-15V, up to 60W; 60W 100-240VAC worldwide voltages PSU is included
Dimensions: 6" x 4 1/2" x 1"
Weight: 1 lb.
Included Accessories: IR remote, silicon stand, power supply
The NuForce Dia is available now for $299 from Amazon, Nuforce online store other NuForce resellers.