Western Digital Introduced Connected Car Storage iNAND 7250A
Posted on: 15 May 2017
By:

chw staff
With the increase connected cars and supporting services, the need for these cars to store, analyse and exchange data is set to increase exponentially; the industry is expecting by 2020 connected and autonomous car data traffic to reach over 280 petabytes per vehicle each year.  This potential market is attracting manufacturers with diverse solutions. Western Digital, which many know as a storage solution provider for computers, has released an embedded storage device specifically for connected automotive applications and the infotainment sector.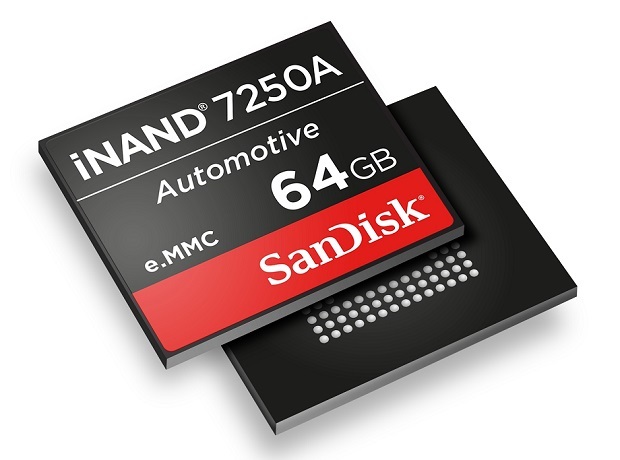 The iNAND 7250A embedded storage device, according to Western Digital is the company's most advanced automotive grade solution to date. Designed to support the data demands of the latest Advanced Driver-Assistance Systems (ADAS), cutting-edge infotainment and safety systems, and other connected technologies in vehicles.
Built with enhanced enterprise class flash memory and controller, iNAND 7250A goes up to 64GB in data storage capacity and supports up to 110MB/s sequential write and up to 300MB/s sequential read.  The iNAND 7250A is designed to work with a variety of automotive systems in the vehicle that generate, receive and process data, from increasingly complex infotainment and navigation systems, to diagnostic systems continuously processing analytics, to constantly streaming vehicle-to-vehicle and vehicle-to-infrastructure systems.
"By utilizing enhanced, enterprise-class storage and controller technology, our new iNAND 7250A embedded storage device offers the outstanding reliability and quality that is essential for the automotive industry, smart features that our customers want most and exceptional performance over a wide range of temperatures. It's well-suited for everything from 3D mapping and vehicle-to-vehicle communications to the high thermal temperatures that can be generated by autonomous driving computing devices and systems in the car," said Christopher Bergey, vice president of Embedded and Integrated Solutions for Western Digital.