Yamaha RX-V867 AV Receiver Tops Off Popular Home Theater Series
Posted on: 28 September 2010
By:

Patrick Oliphant
The RX-V867 is the latest in the 67 series of low to mid-market AV receivers. The RX-V867 is packed with some of the latest in AV connectivity, sound distribution and more. As a mid-market receiver it is up there with Sony, Denon, Onkyo and others in-terms of features such as 3D support, HDMI output and networking capabilities. It is already available online from Yamaha and Yamaha authorized dealers for an estimated price of $899.95.
A closer look at the Yamaha RX-V867 will show that you don't have to break the Bank to get the latest technology in an AV receiver. Supporting technologies include: DLNA V 1.5, Internet Radio, Dolby TrueHD, Dolby Digital Plus, Dolby Digital EX, DTS HD Master Audio, Network Receiver, DLNA V1.5 Technology and more.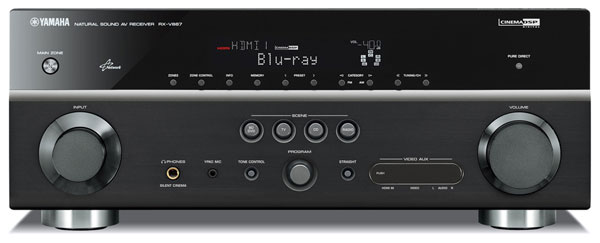 When connected to your Blu-ray disc player, game console and 3D Television the RX-V867 uses it integrated support for Dolby and DTS to provide excellent 3D and HD audio surround sound quality. In addition, the new on-screen display GUI with album art can overlay on HD and 3D sources.
The RX-V867 is DLNA V 1.5 certified, which means you can connect it to other DLNA certified devices and the internet to enjoy Internet Radio (MP3/WMA), popular streaming services such as Rhapsody and Sirius Internet Radio, as well as music files stored on their PCs (WAV, MP3, WMA, AAC, FLAC 96/24).
Other features include "Made for iPod and iPhone", Bluetooth ready, it is equipped with Dual HDMI outputs, allowing for the two simultaneous outputs for multiple displays, or combination projector/flat screen television.