2GIG Joines Z-Wave Alliance With GO!Control Security and Home Automation Platform
Posted on: 2 July 2009
By:

Patrick Oliphant

2GIG Technologies announced today that it has joined the Z-Wave Alliance, an open consortium of manufacturers building products based on Z-Wave, the first technology to bring affordable, reliable and easy to deploy wireless home control to every aspect of daily life - the home environment, consumer electronics, healthcare, and energy management - to create a truly "connected home."
Utilizing Z-Wave, 2GIG's GO!Control security platform allows users to enjoy the benefits of a robust, affordable, and easy-to-use home automation system. The 2GIG system architecture includes a built-in Z-Wave radio, the first and only offering of its kind in the home security industry. Consumers will have the ability to manage their security and home automation functions from their security panel, the internet, or their mobile phone.
"With our initial product launch of GO!Control - the first self-contained, all-in-one security and home management system - we are pleased to provide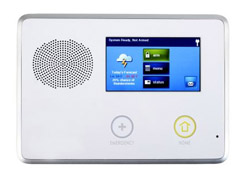 consumers with one of the most innovative home security platforms on the market," said Todd Santiago, Executive Vice President of 2GIG Technologies. "Our membership in the Z-Wave Alliance provides the foundation for 2GIG to raise the standard in home security and bring additional value-added services to end users."
Z-Wave offers the largest ecosystem of home control products in the market. All certified products can be easily controlled remotely from anywhere in the world providing unparalleled flexibility, access and dependability to the homeowner.
"2GIG Technologies is a welcome addition to the Z-Wave Alliance and further solidifies Z-Wave's success in the residential and access security market," said Raoul Wijgergangs, chairman of the Z-Wave Alliance.
About Z-Wave
Z-Wave is an award-winning, proven and interoperable wireless mesh networking technology that allows a wide array of devices in and around the home to communicate including lighting, appliances, HVAC, entertainment centers and security systems. Z-Wave brings many benefits to everyday life including remote home monitoring, home healthcare, safety and security, and energy conservation. Z-Wave certified products are currently available from leading consumer brands in more than 300 products. Z-Wave is the recipient of the Wall Street Journal Technology Innovation Award in the wireless category, the CNET "Best of CES Award" in the enabling technologies category, along with PC World's World Class Award. For more information about Z-Wave, please visit www.z-wave.com.
About the Z-Wave Alliance
Formed in January 2005, the Z-Wave Alliance is a consortium of leading companies in the home technology space dedicated to solidifying Z-Wave as the standard for wireless home control products. The principal members include Cooper Wiring Devices, Danfoss, FAKRO, Ingersoll Rand, Intel, Leviton, Sigma Designs, Universal Electronics Inc. (UEI) and Wayne-Dalton. Its members lead the home controls market, providing leading edge products and systems that deliver increased comfort, convenience, safety and security. Z-Wave technology is the foundation of all products manufactured by the Alliance members. For more information about the Z-Wave Alliance, visit www.zwavealliance.org.
About 2GIG Technologies
2GIG Technologies is engaged in the business of manufacturing and selling home security systems and related hardware, software and services. Addition information is available at www.2gig.com.
source