BluBrain Entertainment Center to Use Gigle's MediaXtream Homeplug AV Technology
Posted on: 17 February 2010
By:

chw staff

Gigle announced that Spanish company Blusens international is to use its MediaXtream Homeplug AV chip in the BluBrain Entertainment Center.  The BluBrain Entertainment Center has integrated Gigle's GGL541, a single chip solution that offers the highest performance of any wireline IC, with both a 1Gbps any wire channel and 200 Mbps over Powerline using Homeplug AV standard.
The BluBrain – media player was first presented at CES2010 as part of Blusens' 'Connected Home' initiative.  Blubrain is a High Definition Television (HDTV) entertainment center and feature the latest in digital home technology.  The BluBrain has an internal hard drive (160GB, 250GB), Dual DVB-T Tuner and offers IP connectivity.  It is compatible with popular media format such as: JPG, PNG, MP3, MP4 and MPEG.  The BluBrain as an online updating firmware system and is compliant with UPnP, NFS and Samba client.  For input/output BluBrain has: component video output, HDMI 1.1 and 1.2, optical and coaxial, 2 USB ports and more – see chart below.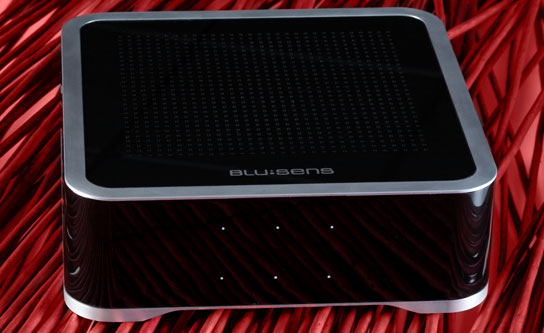 According the Gigle and Blusens the Gigle GGL541 network integration is the culmination of a two years collaboration between both companies.  The BluBrain entertainment center is the first to ship with Gigle's GGL541 chip.  The GGL541 is a fully integrated single-chip solution, with physical-layer (PHY), media access control (MAC) and Smart Mesh home/Quality-of-Service (QoS) switching capabilities.  The chip is capable of meeting the active and standby power requirements for adapters of the Energy Using Products Directive (EuP).