ARRIS New SurfBoard Cable Modem with McAfee
Posted on: 27 August 2017
By:

Roy Evans
All smart home appliances we buy today offers some from the connectivity whether to the internet or another device in our home; because of this some see it as an opportunity to hack into our home.  We therefore, need a better way of securing our connected home appliance, from viruses, malware or any other nasties that might try to cause us problem.  The new ARRIS home gateway is one of the new forms of home security solution that try to protect your home internet's first point of entry - the gateway.
The ARRIS SurfBoard SBG7580 cable modem is the first broadband gateway to feature McAfee's Secure Home Internet.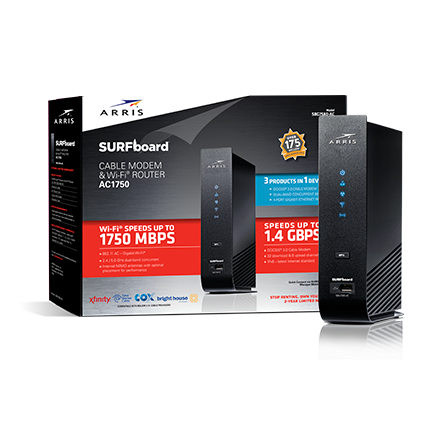 It is fast, with 4 gigabit speed Ethernet ports and 802.11ac Wi-Fi (Internet download speeds up to 1.4 Gbps and Wi-Fi speeds up to 1750 Mbps); DOCSIS 3.0 compatible and easy to use.  The SurfBoard is an ideal whole home internet gateway, fast enough for streaming, downloading and the gamers who need a fast and reliable connection.
As internet traffic flows in and out of the home the gateway checks it for malware, phishing and more from reaching your connected devices; some of which does not have ability to have virus software installed, such your smart thermostats, entertainment systems and cameras.
The gateway has the ability to automatically discover devices and knows what they are and how to protect them, making it quick to setup.  Protecting your children as they use the internet is a priority as it comes with parental control. Parents has a comprehensive list of control options; they can set custom access and controls by user and device profile, block children from accessing inappropriate and pause internet access for a specific device.