Connect Any and Everything With Sigma's CG5200 Chipsets
Posted on: 7 January 2013
By:

chw staff
Sigma Designs today release a new set of G.hn based chipsets for OEMs developing for today's digital homes.  The CG5200 family includes the CG5210, CG5220 and CG5230 chips, which enables superior networked entertainment performance and throughput for seamless, high-quality distribution of Triple Play and IPTV. The versatility of the chips work over powerline, coax and phone line.
Based on G.hn consistency and reliability the CG5200 family is ideal for manufacturers of G.hn-enabled devices, gateways and set-top boxes for whole-home networking of multiple HD and 3DTV video streams.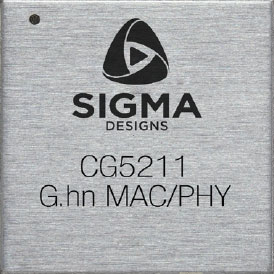 Sigma Designs said the chips are optimized for multimedia distribution and IPTV applications to deliver multiple streams of HDTV video content, 3DTV video traffic, audio content, VoIP, data, gaming and other applications that are highly QoS-sensitive.
Appliances develop with the CG5200 family offer users unprecedented convenience and flexibility because the different home outlet (coaxial outlet and phone jack) becomes a network connectivity point on the same mesh network.
"Complying with the latest G.hn MIMO (multiple inputs, multiple outputs) standard, the CG5200 family of G.hn chipsets is a major step forward for consumers, manufacturers and service providers," said Gabi Hilevitz, Sigma Designs' vice president and general manager Home Connectivity business unit. "End users will now be able to enjoy a superior experience regardless of which connection method they choose to employ."