Cisco to use Medianet to Deliver Next Generation Connected Life at Home Solution
Posted on: 13 April 2009
By:

chw staff

Cisco announced that they will be using their Medianet cable service provider to deliver next generation digital home content. The medianet service provider is an intelligent network optimized for rich media that can help drive video strategy for enterprises, consumers and service providers. Cisco is the only company that, along with our partners, can address rich media from an end-to-end perspective by taking advantage of deep expertise in IP networking, video and consumer premise solutions.
Based on their Visual Networking Index Study Cisco thinks the quantity of IP traffic will grow over the next three years and "Nearly 90 percent of all consumer IP traffic in 2012 will be video".
"Cisco is driving a new generation of Internet-based video and rich-media experiences enabled by medianet technologies, creating new revenue-generating opportunities for our service providers customers," said Tony Bates, senior vice president and general manager, Cisco Service Provider Group. "The build-out of medianets evolve today's networks to become media aware, network aware and end-point aware to deal with the proliferation of video and other rich media services. Our next-generation set-top box platform is truly an extension of medianet, and represents the foundation for innovative new multimedia services as delivered by service providers in the home."
The Cisco Explorer 8600HDC DVR High-Definition Set-Top Series is Apart of the medianet infrastructure it works seamlessly with the IP Services Gateways to extend medianet into the home and deliver the highest quality video to other consumer electronic devices.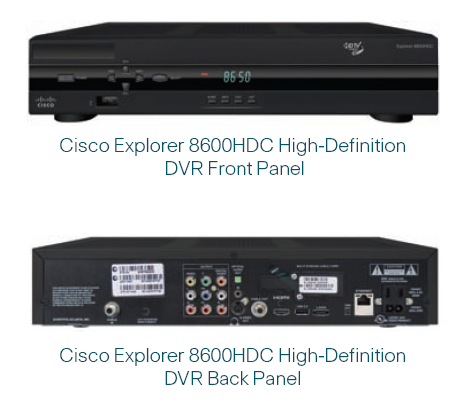 Features:
    The 8600 Series has dual tuner DVR with hard disk drive storage ranging from 160GB to 500GB. Subscribers can watch one program while recording another, and store more content than ever before, especially when using the 8600 Series to stream HD content to multiple TVs in the home.
    Enhance multimedia capabilities and control through the Cisco Explorer 8600HDC DVR High-Definition Set-Top Series. This series helps enable whole home video, allowing consumers to share digital video recording (DVR) or user-generated, Internet-based video content across multiple set-tops or computers in the home.
    Deliver more integrated, video-rich applications, such as instant messaging between a PC and cell phone, home monitoring services, and caller ID on TV when combined with the Cisco DRG2800 IP Services Gateway.
With the predicted growth in Ip media Cisco will partner with service providers to help them improve their existing infrastructure to take advantage of this growth in media content.