Core Brands adds Climate and Lighting Control, Plus Remote Access to Niles Auriel MRC-6430
Posted on: 11 September 2016
By:

Emma Thompson
Core Brands has announced the release of Auriel 2.0 with added features such as streaming audio, climate and lighting control, plus remote access.  Now custom installers installing the Niles Auriel MRC-6430 Multi-room audio system can offer smart home control as well.  The Auriel 2.0 multi-room audio platform is built on the ELAN Control Platform.  The new software update enables any existing Auriel system to easily upgrade to the additional control features.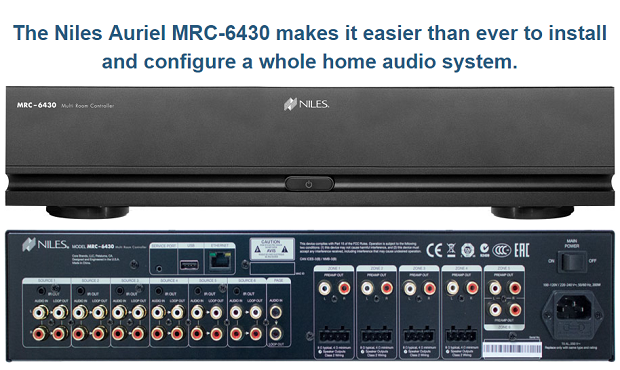 Popular lighting control devices and wireless thermostats can now connect to the Auriel Controller, making the Niles Auriel MRC-6430 a complete, powerful, and convenient home automation controller. The Auriel 2.0 delivers simple access to lighting scenes and climate scheduling with a few simple clicks on a Niles handheld remote (nHR200), wall-mounted touch panel (nTP4, nTP7), or the Auriel app for Android and iOS mobile devices.
The Auriel Wizard cuts configuration time to just minutes instead of hours. With a tablet or PC, the installer can quickly configure the system for lighting scenes and thermostat programming, plus sources, zone preferences, home theater control and user interface customization.
Auriel 2.0 now has Pandora, Spotify, TuneIn and other popular Internet radio services built into the MRC-6430 chassis. One chassis delivers audio to six zones through seven distinct input sources. For larger homes, two chassis can be linked together to create a 12-zone system.
"With the ELAN engine under the hood, Auriel delivers an easy-to-install, entertainment-centric solution that is ideal for entry-level control and multi-unit installations", said Core Brands Software Product Manager, Tom McKeon.