ST and SoftAtHome Collaborate on HD Set-top Box Chipset
Posted on: 4 July 2014
By:

chw staff
They had previously collaborated on a client server solution that llows Service Providers to stream content to multiple home appliances at the sametime. Now, STMicroelectronics and SoftAtHome have extended their partnersip to develop an Ultra High Definition (UHD) chipset that enables operators to offer enhance viewing experiences via their set-top box.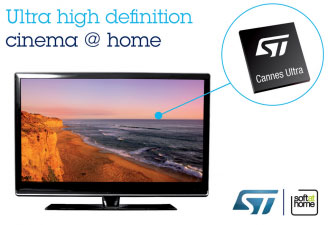 That latest Cannes Ultra/STiH312 client-box SoCs features the SoftAtHome ScreenAtHome software platform. The SoC (System-on-Chip) solution enables the creation of cost-optimized solutions for delivering UHD content in the digital home and enriching operators' offerings beyond traditional Pay-TV services.  It will also allow Ultra High Definition content streaming over broadband and other high-speed connections.
"Our Cannes Ultra set-top box chipset aims to accelerate the adoption of UHD technologies," said Hervé Mathieu, Box and Gateways Business Line director, Unified Platform Division, STMicroelectronics. "SoftAtHome's integration of our Cannes Ultra chipset extends our collaboration and provides end users with the best viewing experience and network performance."
"With ST's latest products, we can now enable our operator customers to benefit from an HEVC for HD eligibility extension and unleash powerful UHD services for a truly immersive user experience and optimum performance. It gives our Software platform a competitive edge to complement our award-winning functionality and integration capability," said Michel Degland, CEO of SoftAtHome.