Dell to Launch Android Tablet Streak in the UK and US this Summer
Posted on: 28 May 2010
By:

Patrick Oliphant
Dell enters Tablet market with 'Streak', a new android based tablet. The Streak tablet (see photo below) is due early June in the UK and will be sold exclusively by O2 the mobile phone and mobile network supplier.  It will also be available in US but not until later this summer. We are not told who it the States will be the retailer and Dell is not giving anything away by saying about the price or  if there would be a CDMA, LTE, or WiMAX version (i.e. Verizon, Sprint or Clear) available, so right now it is the usual GSM suspects  AT&T and/or T-Mobile.
Dell seem to have chosen a less competitive market for the Streak launch, because the iPad is has not hit the UK as it has in the US. Dell did the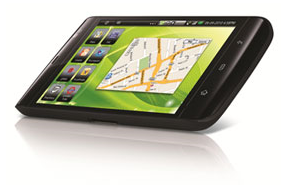 same thing with their first Android phone; it was launch in China.
According to Dell the Streak is hitting a "sweet spot" between traditional-sized smart phones and larger-screen tablets with its 5 inch display roughly half the size of the iPad.
In terms of specification the Streak Tablet uses the 1 GHz Qualcomm Snapdragon -- currently the "in" CPU for hot phones -- 2 GB of internal storage, a micro SD slot for up to 32GB of removable storage, 3G, 802.11 b/g WiFi and Bluetooth. Cellular connectivity includes the usual UMTS, GPRS, EDGE, GSM and HSDPA acronyms with a max link speed of 7.2 Mbps; not bad, but not the latest and greatest.
The device also includes a 5 megapixel camera with dual-LED flash, a VGA front-facing camera for video chat, and will be loaded with "integrated" Google Maps and support for Facebook, Twitter, and YouTube apps.
One let down is the Streak Tablet  will be shipped with Android 1.6 at launch, but will get an Android 2.2. upgrade later in the year, including support for Adobe Flash 10.1.