Onkyo Unveils High-End Network Receivers (TX-NR5009 and TX-NR3009)
Posted on: 29 August 2011
By:

chw staff
Approximately two months after the release of the TX-NR1009, the world's first nine-channel home theater Receiver with DTS Neo:X Technology; Onkyo has announced another two high-end network 9.2-channel THX Ultra2 Plus-certified A/V receivers, the TX-NR5009 and the TX-NR3009. As the top models in Onkyo's line, these receivers deliver improvements on previous models such as the use of the latest HQV-Vida and Marvel Qdeo video processors, new DTS Neo:X dimensional surround processing, Dolby Volume, and new streaming internet radio channels.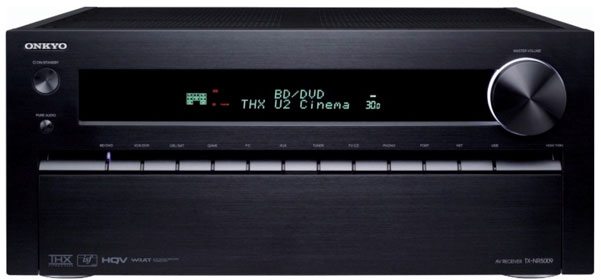 Connectivity
When it comes to input options, the TX-NR5009 and TX-NR3009 are extremely versatile, sporting eight HDMI inputs and two outputs, plus a full range of legacy analog and digital AV connections. New media connections include an Ethernet port, two USB ports, a Universal Port for Onkyo peripheral devices, and an RGB input for video content from a connected PC. Onkyo also offers an optional UWF-1 wireless LAN adaptor that turns the front panel USB port into a home internet access point. Users can also download and install free applications that turn their Android or iPod touch/iPhone into a full-function remote control to control the receiver.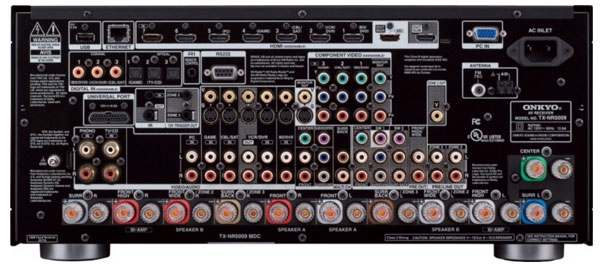 Supported Media
Both receivers are designed to connect to the new generation of user-customized Internet radio stations and streaming music services, including those from Spotify, AUPEO!, Pandora, Last.fm, Rhapsody, Napster, Mediafly, Slacker, Sirius XM, and vTuner. The receiver is also DLNA 1.5 certified; it can interface with USB-compatible portable music devices, such as iPods, and and play music straight off a USB thumb drive. Naturally, the unit can handle a wide variety of audio formats, including FLAC, WMA Lossless, WAV, AAC, Ogg, MP3, and, for audiophiles, Super Audio CD.
Sound Management
With terminals for 11 speakers, the nine amplifier channels can be tasked to power a wide variety of front, surround, height, bi-amped, or remote-zone loudspeakers depending on the users needs. Onkyo makes it easy to fine-tune all these speakers by providing the latest Audyssey MultEQ® XT32 room-correction and equalization technology, which perfects audio performance regardless of a room's shape or acoustics.
Onkyo was the first AV receiver manufacturer to introduce DTS Neo:X, the industry's first 2.0/5.1/6.1/7.1-to- 9.1/11.1 conversion technology within a single algorithm. This technology allows users to augment a basic 5.1-channel set-up by adding speakers in various combinations of height, wide, and surround channels. As implemented on the TX-NR5009, Neo:X can bring out subtle ambient sounds or even work around the need to install rear speakers to deliver a cinema-like experience. Like last years' models, both receivers include the related surround processing of Audyssey DSX, and Dolby ProLogic IIz.
Video Processing
The next-generation video capabilities of these new receivers are the result of a tag-team effort from two extraordinary new video processors. The HQV Vida VHD 1900 processor lies at the heart of the system, and brings standard video images to life in high definition. The chip employs multi-cadence tracking, expanded 12-bit color-processing, and smooth, motion-adaptive de-interlacing to optimize quality and detail.
The Marvell Qdeo technology upscales 1080p video to a full 4K (3840 x 2160), even from sources already upscaled by HQV Vida from lower resolutions to 1080p. This remarkable technology treats the viewer to spectacular images of unparalleled color and clarity, provides enhancement of low-resolution streaming video, and facilitates individual ISFccc video calibration capabilities for all video sources.
Price and Availability
The Onkyo TX-NR5009 will have a suggested retail price of $2,899 with the TX-NR3009 will be offered for $2,199. They will ship to dealers in the beginning of September.
See also: Integra Introduces Four Network AV Receivers for Custom Installers