Femtocell Coming to a Home Near You
Posted on: 20 May 2009
By:

Patrick Oliphant

I have a friend and whenever I call him on his mobile at home he has to stand in a certain spot in his house or go outside for us to have a clear and unbroken conversation.  Why? The mobile reception in his home is bad.  For most of the time tmobile calls are inaudible or disconnect during the conversation. Because of this he avoids mobile calls when he is at home. 
What does Femtocell has to do with my friend and mobile conversation? Quite a lot, I must say.  A Femtocell system is a wireless system that you can install at home to improve or boost the quality of your wireless signals, it will also reduce the amount you pay on your mobile calls.  The installation of a Femtocell hub/gateway would stop the disconnection of your mobile conversation and allow you to move about while you are having a conversation.
My friend's bad reception is not the only case for Femtocell.  Because the handheld devices we use today are getting smarter we are therefore pushing them to do things we normally do with our PCs.  The mobile network providers are spending more to improve their wireless infrastructure with the hope that the network will cope with the level of traffic that these services and devices require.  Femtocell is seen as a cheaper option, by allowing the wireless device to push the traffic through your broadband connection. By doing this everybody wins we get a better user experience cheaper and the suppler don't have to break the bank on improving their wireless technology
What is Femtocell and how does it work?
The Femtocell system works by installing the Femtocell gateway/hub in your home and configuring it to work with your broadband connection. The device looks like a standard Hub or Modem.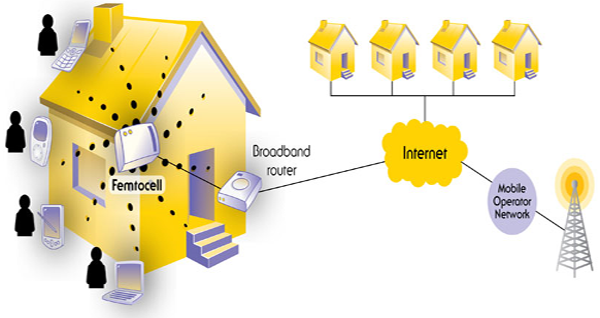 image from picochip
As soon as a compatible device comes in range ( know as Femtozone) of the Femtocell the device will switch communication from the outside mask to your internal Femtocell gateway.  The Femtocell uses the GSM/UMTs protocol to communicate with your home handheld device within your home and uses the lub, SIP and UMA protocols for external communication.
The Femtozone services has a triggering mechanism that's activated when the phone arrives home and camps onto the Femtocell. This triggering can come from two places:
1.    An application in the phone (which uses an API to detect the Femtocell ID and initiate an action – e.g. large file transfers), or…
2.    From the network (e.g. the Femtocell Access Point or Femto Gateway initiates an SMS message or a presence update on a Web 2.0 service when it detects the phone has entered the Femtozone).
The Femtocell gateway will provide two main types of services:
a)    Femtozone services: This service will allow you to switch from external to internal as soon as it comes into the Remtocell range.  This will save you money because you will be using the Femtocell gateway via your broadband connection.
Examples of this service are:
Receive an SMS when your kids enter or leave the home
Automatic "I'm at home" profile / presence update on Plazes and other Web 2.0 sites
Automatic podcast reload & photo/video upload to the web (Flickr, YouTube etc) when you get home
Virtual home number (rings all mobile phones currently in the home).
b)    Connected home services: This is where the handheld device access other equipment in your home via the Femtocell gateway.
Examples of connected home services are:
Back up music downloaded on your phone to your PC
Play a slide show of photos from your phone on your TV
Stream videos from your DVR to your phone at high quality
Use your phone to control other devices in the home (e.g. to instruct the HiFi to play music stored on a home media server).
See Also: