Ford Adds More To The Connected Car With SYNC AppLink
Posted on: 12 January 2014
By:

chw staff
Ford has collaborated with Habu music app, ADT, Domino's Pizza, Parkmobile and Parkopedia to offer more solutions to their in-vehicle mobile app platform SYNC AppLink. Drivers will be able to use the voice activated and touch screen solution to request service and manage other connected appliances.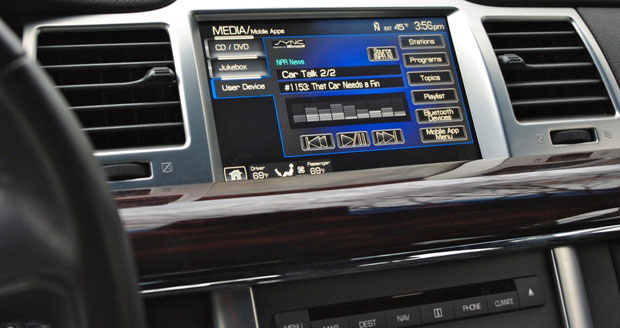 According to Ford there already are over 1.5 million vehicles equipped with SYNC AppLink, and another 3.4 million more will be able to download AppLink later this year. SYNC AppLink is available on the Ford Fiesta, Expedition, Transit Connect, Fusion, Taurus, Mustang, Edge, Explorer, Flex, F-150, Super Duty, Focus, E-Series and C-MAX hybrids. SYNC AppLink works with both Apple's iOS and Google Android allowing users to control over 60 million mobile apps.
"Today, consumers continue to demand more personalized, simplified and integrated in-vehicle experiences. And, with consumers spending more time with digital media than with any other, Ford hopes to turn the connected vehicle into an intelligent vehicle, one that simplifies and personalizes the in-vehicle experience for the consumer."
The Habu, developed by Gracenote is the first voice-activated mood-base app for the ford SYNC AppLink. The HABU smartphone app for iPhone allows drivers to use words such as excited, rowdy, angry, cool and carefree to tell Habu what songs to play.
HABU takes advantage of the enormous library of metadata provided by Gracenote to analyze music collections and organize songs based on their mood characteristics. HABU groups songs into 25 moods that can be accessed using simple voice commands.
Soon to be release are the ADT Pulse mobile apps for iPhone and Android devices that are compatible with SYNC AppLink.  This will give users the ability to monitor and manage their home or business from the convenience of their vehicles.
Once the phone is connected to SYNC, from the comfort of your vehicle you will be able to Open a door, check system status, automate home entry and access and arm and disarm the system.
Available soon, Domino's customers who have save their favourite pizza combination, address and payment information using the Easy Order function on their Domino's mobile app, as well as the Ford SYNC AppLink in their car will be able to use SYNC to place their "Easy Order" in just a few simple, voice-activated steps.
Parkmobile and SYNC AppLink are making it easier for us to pay for a parking space from our smartphones using voice activation. The collaboration between the two companies will allow Parkmobile customer with on-file credit or debit card an easy way to pay.
While it varies from location to location, in some cases drivers can receive a reminder to their smartphone 15 minutes prior to the expiration of their parking session, enabling them to remotely extend their parking session if they have not exceeded the maximum allowed time.
The Parkopedia app is coming to SYNC AppLink, you will soon be able to use simple voice commands to find the closest parking spot and check on availability.  To use Parkopedia, drivers of SYNC AppLink-equipped Ford vehicles need to have the app installed on an iOS or Android-based smartphone. Drivers can then activate Parkopedia by pressing the SYNC voice button on the steering wheel and saying "Mobile applications," and then "Parkopedia," to begin finding real-time available parking spots.
Beyond the in-car experience, Ford's ultimate goal is to use connectivity and digital to transform every aspect of the ownership experience, and to build the foundation for future mobility initiatives. With the eventual proliferation of embedded telematics capabilities for Ford Motor Company's SYNC system, as recently announced on Lincoln MKC, a newly aligned organization will manage connectivity across the entire enterprise.
source: ford