Get Total Home Control With Philip's Pronto Digital Home Solutions
Posted on: 24 January 2010
By:

chw staff

Home Control is now a must have among home automation enthusiast, but there are home control and home control. The Philips Pronto home control set itself apart from many others. The gap was widen with the release of two wand style control panel (TSU9300 and TSU9400) and the tablet style panels (TSU9600 and TSU9800).
One of the first things that struck about the Pronto Control Panels is their design. They are like contols out of a Star Trek movie. Especially the wands, they feature an ultra thin design, with rich coloured touch screen – size 3.5" or 2.8".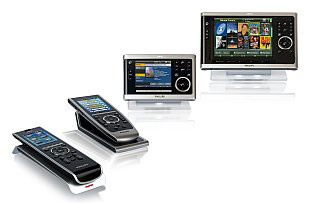 In terms of features there are many: firstly the user interface on each remote is fully customisable to align with your preference. The four remote are wireless and the TSU9800 offers wired network connectivity.  The Pronto digital home controls come with the option to extend its control to other rooms or to hard to reach equipment, such as those in cabinets.
At a lower level Philips offers the ProntoScript software.  This is a programming interface to make it easier to integrate with other connected home systems, such as lighting control, HVAC control, Multizone audio control, multimedia content browsing, security comeras and entertainment. The systems also integrate with major AV receiver brands like Denon, Marantz, Onkyo and Vudu.