iControl Offers NETGEAR (STS7000) Tablet For Home Automation
Posted on: 2 May 2014
By:

chw staff
iControl is now offering the Netgear STS7000, a Google Android based tablet that can manage their "iControl Connect" solutions. It is ZigBee and Z-Wave compatible, therefore you can access and control your home automation systems such as security, energy management and lighting, through it touchscreen interface. The STS7000 offers dual-band 802.11n Wi-Fi connectivity that allows you to access the web and get real-time traffic alerts from Google Maps, weather tracking and forecasts through INTELLicast and news and sports alerts; in addition to iControl devices, you manage other connected devices through the Netgear genie application.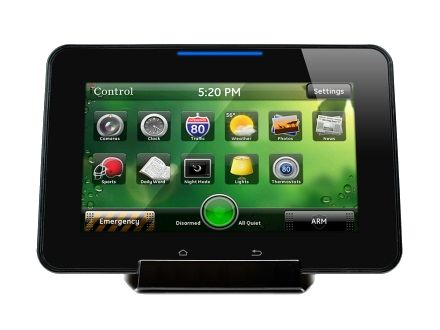 "The NETGEAR STS7000 gives users the power to do almost anything, from disarming their security system to turning on lights, locking doors, checking traffic and even viewing family photos, all from the palm of their hand", said Netgear.
Processor
    ARM Cortex A9 CPU
Memory
    2 GB NAND
    512MB DDR III SDRAM
WiFi
    802.11N 2x2 Dual Band Switchable
    WPS 2.0
    Internal Antenna – Dual band 3D PIFA
    Security Protocols: WEP-64, WEP-128, WPA/WPA2 (PSK)
    P1905 Compliant
Display
    Resolution – 800x480
    16 bit color, 2D Graphic Acceleration
    Capacitive touch screen with Gesture Support
External Interfaces
    Mini-USB (Host Mode)
    Micro SD Card
Audio
    Microphone (8kHz)
    Speaker (44.1 kHz)
    Audio Formats Supported: G.711, PCM, AMR-NB, AMR-WB, MO3, AAC, MP3, WAV, WMA, MIDI, Ogg Vorbis
Video
    RTSP streaming of VGA MPEG-4, MJPEG and H.264 at 30 frames per second
    Additional video formats supported: H.263, MPEG-2, WMV, MOV, AVI, FLV
Inputs
    Power Button
    Home Button
    Reset Button (Recessed)
Power Adapter
    Input – 120 VAC/60 Hz
    Output – 12 VDC, 1.5 Amps
Battery
    User Accessible Battery
    Rechargeable Lithium Ion
    4000 mAH
    Removable battery certification – UL2054
Programmable Light Bar
    Programmable Tri-Color LED Status Indicator
    2" Light Bar above touch screen.
Battery Performance
    4 hours continual usage
    7 days in stand-by mode
    Full recharge time 6 hours
Regulatory
    cUL 60950-1
    FCC EMI, Part 15b
    FCC Spectrum Part 15c
    Industry Canada RSS-210
Accessories
    USB to Ethernet Adapter
    Wall Mount (Future)
Compliances
    RoHS
    REACH
    WEEE
    DOCSIS® 3.0
Model Summary
    STS7000
Package Contents
    Touch Screen
    Power Adapter
    Charging Cradle
    Install Guide