Meet the World's Smallest Phone Charger, ChargeTech
Posted on: 6 January 2015
By:

chw staff
ChargeAll, maker of innovative mobile device chargers, is unveiling the world's smallest phone charger with two fast charging USB ports, at the CES this week.  The phone charger is almost twice as fast as the standard Apple iPhone charger and half the size of the standard Apple iPad charger, ChargeTech packs twice the power in a form factor that will fit in the palm of your hand, said ChargeAll.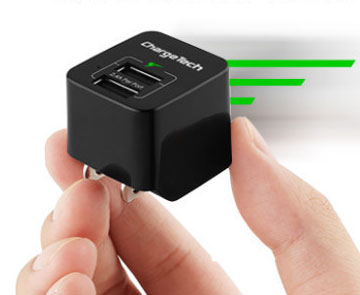 Using special technology, ChargeTech delivers the fastest charge possible for all your mobile devices. It features a microchip that intelligently recognizes the mobile device plugged in and charges it with the fastest speed possible. It also includes safe overcharge protection and an LED indicator light to know when the device is plugged in.
The new ChargeTech phone charger works with virtually all mobile devices. It's compatible with Android phones and tablets, GoPro digital cameras, Amazon Kindle e-readers, Motorola smart phones, HTC handsets, portable battery packs and thousands of more devices. The ChargeTech dual usb wall charger can also charge two mobile devices simultaneously.
Also available is a car charger version. Just as small and powerful, this dual USB car charger will fit perfectly in any cigarette lighter power adapter. ChargeTech is now available for pre-order through Indiegogo for only $19 with free shipping.
Check it out here: https://www.indiegogo.com/projects/chargetech-world-s-smallest-phone-charger/x/1790948.