NETGEAR AirCard Won 2015 CES Innovation Award
Posted on: 14 December 2014
By:

chw staff
NETGEAR's AirCard 785 4G LTE mobile hotspot has been named a 2015 CES Innovation Honoree in the Smart Home category.  The device is the world's first "unlocked" 4G LTE mobile hotspot with simultaneous dual-band WiFi coverage. For homes that have no or limited fixed broadband connection, the AirCard 785 can be and ideal solution, offering 4G broadband connection.  Its unlocked state mean it is not automatically tied to a service provider's service plan.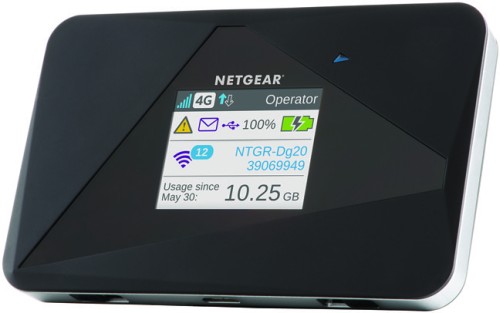 You can connect up to 15 devices to the AirCard; laptops, tablets, smartphones, digital cameras, gaming consoles, or other WiFi-enabled devices can easily and securely connect on-the-go to the built-in 802.11b/g/n wireless access point.  The smart, powerful features of the AirCard 785 leverage simultaneous dual-band WiFi for greater range (2.4GHz) and performance (5GHz), while minimizing interference from nearby devices.
The AirCard 785 can act as your your home's primary Internet source when docked in the optional 4G LTE Boosting Cradle (DC113A). You can extend the functionality of the AirCard 785 hotspot even further by connecting it via the cradle to a high performance WiFi router within the cradle.  The cradle is equipped with a Gigabit Ethernet port to provide Internet connectivity from your mobile hotspot to your desktop computer, laptop, printer, media server, network attached storage (NAS), or any other Ethernet-enabled device.
When docked in the cradle, the AirCard 785 serve as a 4G LTE modem that acts as an alternate Internet connection for a high performance WiFi router during peak usage hours, or as a failover connection for emergencies.
With the AirCard 785, you are free to choose almost any service provider without committing to a long-term service contract (depending on location), although the device will support monthly service plans if you choose that option. You simply buy the data plan that best fits your lifestyle, plug in your SIM card. It offers a convenient data usage monitoring feature, allowing to see your data usage at a glance.  This will can help you to effectively manage your budget and pay for data only when you need it.
The clean design of the AirCard 785 means that at a glance of the the 4.5 cm (1.77 inch) color LCD screen you get all the real-time information you need for monitoring battery life, network name, data usage, and more.
There's no software to install which means you can be up and running in minutes. You can connect additional devices with the push of a button as well as easily set up one-time guest WiFi access to the network. You're also able to easily block unwanted devices from your AirCard 785 network due to its secure WiFi encryption modes. You can conveniently manage it in multiple languages via the NETGEAR AirCard App for iOS and Android smartphones and tablets and even your Amazon Kindle.
AirCard 785 Key Features:
    4G LTE/3G/2G support
    Simultaneous dual-band WiFi
    Data usage monitoring
    NETGEAR AirCard App compatible
    Up to 10 hours of battery life
    Connects up to 15 WiFi devices
    Color LCD display
    Guest WiFi access
    Multi-language support