Onkyo Adds Spotify to AV Receiver TX-NR609
Posted on: 31 March 2011
By:

Patrick Oliphant
Onkyo has released a new home cinema AV receiver with Spotify,  the online music subscription service. The new affordable TX-NR609 receiver will allow access to the Spotify music service straight from your television, if you are a Spotify premium member.  The new AV receivers offers the latest in connectivity and high quality surround sound solutions from THX, Audyssey and Dolby.
With over 10 million music tracks covering any genre Spotify allows you search its database for any song from any artist and just play it. The service already has subscribers in seven countries (France, Sweden, UK, Netherlands, Spain, Norway and Finland). All you will need is your membership and internet connection and you can listen to your hearts content.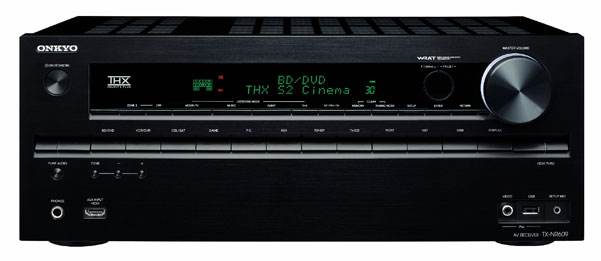 By integrating the service in the TX-NR609 you can listen to song in 7.2-channel surround sound quality. By connecting your television to the TX-NR609 you have access to its user friendly on-screen display and using your remote you can navigate the different options.  The system offers Album cover art along with intelligent search feature such as" What's New" and "Starred features".
Other features include:
THX Select2 Plus™ Certified A/V receiver to handle content from all your favourite disc-based media, as well as networked and audio content from the internet (now with support for Spotify, iPod, iPhone and PC.
Six HDMI® inputs (including one on the front) to provide support for 3D video and ultra-high resolution 4K video up-scaling via Marvell Qdeo™.
Surround sound from Audyssey DSX™ and Dolby® Pro Logic® IIz.
Three-stage inverted Darlington circuitry and Onkyo's proprietary WRAT to ensure a clean and compelling amplifier performance.