Samsung is Building Homes with IoT in Mind
Posted on: 18 June 2018
By:

chw staff
Microsoft has one, Intel has one, and now Samsung has built theirs. These companies are all building their own show home demonstrating the possibilities of IoT within the connected home. However, Samsung is going a bit further.  Through its construction division Samsung C&T, they want to start building these connected homes for customers. In its home country of South Korea, Munjeong-dong, Songpa-gu, Seoul; Samsung C&T has set up the "Raemian IoT HomeLab" to demonstrate the latest in IoT solution within the home.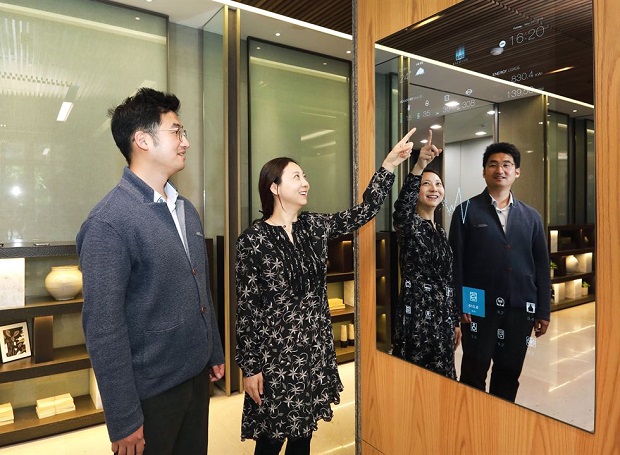 In partnership in with about 13 other companies such as Samsung Electronics, Kornic Automation, Shinsung E&G, Haarz, Samsung SDS, SK C&C and Bodyfriend, they created the Raemian IoT HomeLab show home. Each partner's solution is incorporated in different parts of the home; solutions such as air shower system, a smart mirror, recipe suggestion, air ventilation systems, automated curtains and a temperature control system.
As I mentioned here before building homes already fitted with IoT solutions is a better way to help with the adoption of connected home solutions. At the Raemian IoT HomeLab, in Raemian Gallery they are inviting prospective customers and the public, and having them see what is on offer and getting their feedback on services, which Samsung C&T hope to start offering as soon as next year.
IoT solutions can be found throughout the home; the entrance, bed room, kitchen, living room, exercise room, study room and movie room. According to HomeLab team's Vice President Kim Myung-suk, they are building something different from existing IoT solutions within the home. Theirs is built around the user, not merely controlling a single device through voice recognition, but the whole environment involving different sensors using beacons and other technologies.
When you enter these future homes, they will automatically recognize you. Thus, knowing when to turn on the air shower, based on air quality, and display information useful to you on a smart mirror. Also, when you enter the kitchen, sensors communicating with your smartphone or watch will interact with you and its appliances.
Similar things happen when you enter to the living room, where the lighting, temperature, TVs and other appliances can be controlled by not only Samsung's Bixby artificial intelligence but also Amazon's Alexa. The curtains can be drawn or open automatically, depending on your mode selection.  In the bedroom, the home recognizes whether you are sleeping or awake and automatically controls the temperature and lighting.
Only the Samsung Gear smart watch, smartphone and Amazon's Alexa are currently able to activate the smart home system, but Samsung C&T said it would partner with more brands so that even a resident with an iPhone or LG smartphone can activate the system. "This is not an end product and we will continue adding new features or adjusting the model house so we can test new products and find what are the best matches for our customers," said Samsung C&T.
According to Kim, the company is in talks with nine apartment complexes in Seoul to apply those technologies as early as next year.  "IoT systems developed with construction companies in charge will be about creating home-automation systems and energy management, which are more practical and needed for residents when applied," he added.