Samsung Launched 3D Home Theatre System: HT-C6930W
Posted on: 17 May 2010
By:

Patrick Oliphant
Last week in Seoul Korea Samsung launched the world's first 3D home theatre system (HT-C6930W) offering the best in 3D sound and 3D stereoscopic images.  With the introduction of the new HT-C6930W Samsung now offers the complete 3D home entertainment solution (3D glasses, 3D TVs, 3D content and 3D Blu-ray players).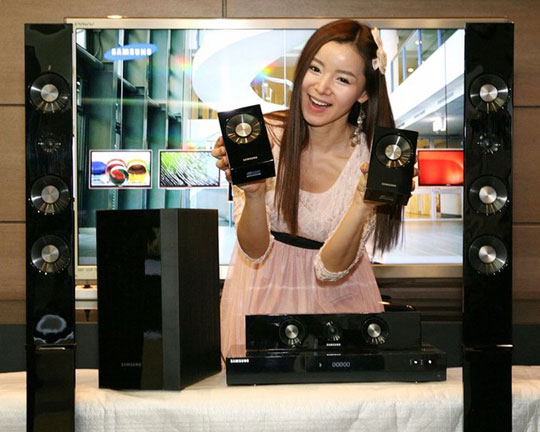 The HT-C69930W was created based with Samsung's 'Crystal Amp Pro' which minimizes sound distortion and noise. By adding two vertical speakers to the 5.1 channel speaker system with flat surround sound and realizing 1330W high-power surround based on a 7.1 channel speaker system, the HT-C6930W provides perfect vertical surround sound for 3D which conventional systems cannot provide. This provides a true immersive 3D experience at home.
With Wi-Fi and AllShare home network technology you can access and play sound from other systems in your home. The HT-C6930W is also accessible through a wired network connection. Also available is Internet@TV, a widget-based, easy-to-use, internet service allows users to enjoy useful information on the internet such as news, weather, stocks, UCC and movies for free. Content and Firmware updates are both done automatically.