Sonic Roxio and LG Collaborate on Movie Download
Posted on: 5 June 2009
By:

chw staff

Consumers can now digitally stream movies from Sonic Solutions including new releases from major Hollywood studios often on the day and date the DVD release is available - on Blu-ray Disc players from LG Electronics.
"With its Network Blu-ray Disc Players, LG is showing the future of home entertainment -- a future in which the consumer is in complete control of an extensive library of instantly available premium video content," said Habiger. "Sonic will continue to work with premier CE device manufacturers like LG to meet consumers' expectations for seamless access to high-quality video entertainment from any connected device."
Ahn said, "Our premium 2009 line of Blu-ray players with NetCast Entertainment Access is redefining the home entertainment experience and delivering solutions that match the new dynamic demands of consumers' digital lifestyles. Roxio CinemaNow plays an important role in helping fulfill our goal to offer consumers fast, convenient access to a varied and almost endless catalogue of video entertainment."
Previewed at the 2009 International CES(R), the LG Network Blu-ray Disc Players (models BD370 and BD390) and LG Network Home Theater Systems (models LHB953 and LHB977) are the first to incorporate the Roxio CinemaNow Service. Available now, LG's BD370 and BD390 Network Blu-ray Disc Players offer consumers easy access to a vast array of movies and TV shows.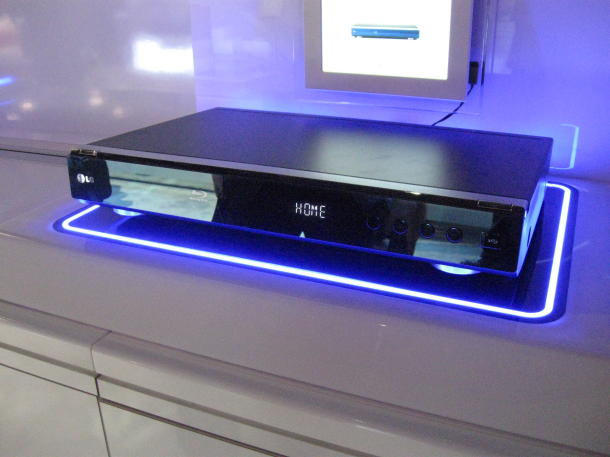 Equipped with WiFi capabilities and 1 gigabyte of memory, the BD390 is the first-ever Network Blu-ray player to offer an interactive Download-to-Own and Pay-Per-View option, allowing consumers to purchase Roxio CinemaNow content at the click of the remote. LG's Home Theater systems (LHB953 and LHB977) deliver "Full HD" 1080p video performance, upscaling from standard DVDs to 1080p, and a premium surround sound experience.
LG Electronics joins the rapidly expanding Roxio CinemaNow ecosystem of compatible devices providing consumers a more flexible digital entertainment experience through extended multi-device access and playback capabilities. Sonic's device ecosystem, powered by its new Roxio CinemaNow SDK (software development kit), is helping streamline the integration of turnkey premium entertainment delivery, management and sell-through services in next-generation digital home devices including portable media players, Blu-ray Disc players, set-top boxes, mobile phones, Web-connected television sets and PCs equipped with Roxio Venue(TM) software.
Sonic is at the forefront of digital video distribution, offering high-quality Hollywood movies, TV shows and music videos to consumers across multiple platforms. Sonic has relationships with more than 250 content providers and a content portfolio of over 14,000 titles that includes new releases from major Hollywood Studios, and entertainment from independent distributors, as well as broadcast and cable television networks.
About LG Electronics USA
LG Electronics USA, Inc., based in Englewood Cliffs, N.J., is the North American subsidiary of LG Electronics, Inc., a $45 billion global force and technology leader in consumer electronics, home appliances and mobile communications. In the United States, LG Electronics sells a range of stylish and innovative home entertainment products, mobile phones, home appliances and business solutions, all under LG's "Life's Good" marketing theme. For more information, please visit www.LGusa.com.
About Sonic Solutions
Sonic Solutions is powering the digital media ecosystem through its complete range of Hollywood to Home(TM) applications, services, and technologies. Sonic's Roxio products enable consumers to easily manage and enjoy personal digital media content as well as premium Hollywood entertainment on a broad range of connected devices. A wide array of leading technology firms, professionals, and developers rely on Sonic to bring innovative digital media functionality to next-generation devices and platforms. Sonic Solutions is headquartered in Marin County, California.
source:http://news.prnewswire.com
See also: