Sony's 2015 Range Of BRAVIA 4K Ultra HD TVs
Posted on: 15 January 2015
By:

chw staff
If you didn't get a Television deal in the Black Friday or Christmas sales then wait because the new BRAVIA televisions coming from Sony this year is worth looking over.  The new range has four new series and 10 new models to choose from with the added benefit, they offer 4k Ultra HD image quality. New features include better access to content and image quality, connectivity with Google Android TV plus direct access to Playstation games.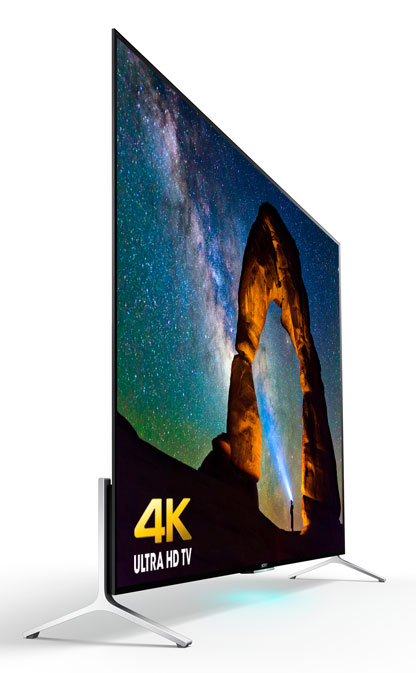 The numbers on the new models are impressive; first, they are built with a new 4k processor X1, which Sony said has enhanced color, contrast and clarity. The sixes range from 43 to 75 inches, with screens 4K resolution (3,840 x 2,160).
Also new for 2015 is the XBR X900C Series, which features a new ultra-thin floating style, making it Sony's thinnest TVs yet with edge-to-edge viewing.
Combined with the advanced 4K X-Reality PRO up-scaling Algorithm technology, these televisions will analyze and upscale 4K resolution, providing the best image quality, regardless of the image source.
The BRAVIA range includes TRILUMINOS display technology to accurately reproduce shades of red, green and aqua blue. "Colors come alive on the screen in the widest color range ever, and dynamic color correction ensures colors are as consistent and accurate as possible every single time", said Soney. The televisions are also equipped with X-tended Dynamic Range contrast enhancement to enhance the picture quality, with deeper blacks.
Sony said, because we are now getting content from different places, Blu-rays, DVDs and the internet, they have designed the televisions to upscale to 4K resolution so that we can get the highest level viewing experience possible.
SMARTER TELEVISION VIEWING EXPERIENCE
For the first time, these televisions will support Google's Android TV operating system, making it easy to stream video, function as a gaming device and provide enhanced features like voice-enabled searching through a remote equipped with a microphone. With access to Google Play, consumers can enjoy what they like to do on a smartphone or tablet, from their television. Additionally, Google Cast will provide users with greater connectivity than ever before by enabling them to cast content from devices in a similar way as is done with Google ChromeCast.
Gamers can bring the immersive world of PlayStation directly to their new Sony 4K Ultra HD television with PlayStation Now. Select PlayStation 3 games can be stream directly to the TV, just like shows and movies, by connecting a DUALSHOCK 4 controller.
INCREASED 4K CONTENT
As the leader in 4K with expertise in industry-leading innovation in televisions, technology and content, Sony's new 4K Ultra HD TV line-up will enable access to over 1,300 blockbuster movies, hit TV shows and other 4K titles through partnerships with Video Unlimited 4K, Netflix, Amazon Instant Video, Ultraflix and Toon Goggles.