Sony Announced the Digital Home PC for Christmas: VAIO L Series
Posted on: 8 October 2009
By:

chw staff

Sony Europe has announced its latest PC for the digital home. The new system is base on the VAIO L Series, with premium HD home entertainment, Chic, space-saving all-in-one design, Super-size, high resolution 24" LCD touchscreen for intuitive fingertip control.  The system is due in the shops from the 22nd of October 2009. So put off your Christmas PC purchase until you see the VAIO L Series all-in-one computer.
Just one touch and you'll be convinced. The stunning new VAIO L Series gives you the power to explore, share and interact with your HD multimedia collection: all you need is your fingertips.
VAIO L Series is the perfect focal point for today's digital home. There's generous disk space to store all your photos, videos, TV programmes and music for streaming, sharing and syncing with netbooks and other devices around the home. And with a big, breathtaking new High Definition touchscreen, it's never been easier to enjoy and interact with your digital content collection.
A beautiful match for any living space, VAIO L Series delivers all the power of a premium entertainment PC in a slim, stylish all-in-one design that saves on cables.
Centre stage is a big, beautiful 24" widescreen X-black LCD with Multiple Lamp Technology for a sumptuous view of your photos, camcorder clips, movies on Blu-ray Disc and more in Full HD. In a VAIO first, the stunning display is also an ultra-high resolution touchscreen that makes the most of touchpanel support that's featured in Windows 7. It's never been more intuitive – or more fun – to explore and navigate through documents and applications with intuitive gestures… and no mouse or keyboard needed.
The big, photo-realistic touchpanel is also a brilliant showcase for Media Gallery, an easy-to-use new VAIO application that puts incredible HD entertainment experiences at your fingertips.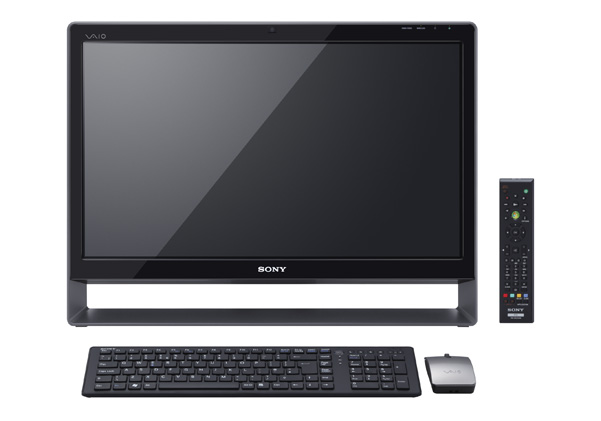 This immersive graphical interface adds a new dimension to your digital life, offering exciting new ways to explore your media collection. With Media Gallery it's a pleasure to browse through digital images, videos and music tracks with effortless touch, flick, drag and rotate gestures on the LCD touchscreen.
It's easy to find your favourite memories in an instant without hunting through confusing folders. Photos and videos can be viewed on a timeline, or as Events that cluster together all your images and clips from the same day – like a birthday or wedding.  Media Gallery even learns about your preferences, suggesting other images, videos and music based on your browsing history and content metadata.
You don't need to be a skilled editor to create great-looking videos of a holiday or special occasion. VAIO Movie Story automatically selects and splices together highlights from your HD camcorder footage, ready for burning to Blu-ray Disc or DVD for sharing with friends and family.
A brand-new Music Player offers a friendly environment for enjoying your favourite sounds, with SensMe™ technology that automatically analyses your music collection, sorting tracks into channels to suit any mood. Media Gallery can be accessed by VAIO Gate, an intuitive new on-screen launcher that's your entry point to all your favourite Sony and third-party applications.
VAIO L Series also delivers a premium audio experience to enhance enjoyment of movies, videos, games and music. Integrated 5.5W + 5.5W speakers and S Master Digital Amplifier technology deliver a richly-detailed soundstage without the clutter of additional cables.
The elegantly-styled wireless keyboard features a dedicated 'VAIO' button that instantly launches the Media Gallery application.
 
Analogue video and HDMI inputs let you enjoy games on your PLAYSTATION®3 and other consoles on the big, bright, high resolution 24" screen. You don't even need to boot up the computer for a dazzling, detail-packed HD gaming experience.
Sony VAIO L Series Specifications
| Model | VAIO VPC-L11M1E/S | VAIO VPC-L11S1E/S |
| --- | --- | --- |
| Processor | Intel(R) Core(TM) Duo Processor E7500 2.93 GHz | Intel(R) Core(TM) Duo Processor E8400 3.0 GHz |
| OS | Genuine Windows(R) 7 Home Premium (64bit) | Genuine Windows(R) 7 Home Premium (64bit) |
| Memory | 4GB (2x2GB) DDR2 SDRAM | 4GB (2x2GB) DDR2 SDRAM |
| HDD | 500GB Serial ATA 7200rpm | 500GB Serial ATA 7200rpm |
| Screen | 24" Full HD X-black LCD (Full HD resolution 1920x1080) with multiple lamp and touchscreen technology | 24" Full HD X-black LCD (Full HD resolution 1920x1080) with multiple lamp and touchscreen technology |
| Graphics | NVIDIA(R) GeForce(R) G210M GPU with 512MB dedicated memory | NVIDIA(R) GeForce(R) G210M GPU with 512MB dedicated memory |
| Optical drive |  DVD+-RW/+-R DL/RAM | Blu-ray Disc(TM) Combo Drive (reader) BD-R/-RE/-ROM/, DVD+-RW/+-R DL/RAM |
|  Others |  WLAN 802.11b/g/Draft n; Bluetooth(R); Motion Eye digital camera | WLAN 802.11b/g/Draft n; Bluetooth(R); Motion Eye digital camera; DVB-T tuner |