Tecom and Prime Electronics Select Sigma CG5200 Chip
Posted on: 8 June 2014
By:

chw staff
Advanced networking supplier Tecom and set-top box manufacture Prime Electronics have selected Sigma Designs G.hn CG5200 chipset family for a range of new consumer devices.  The Sigma G.hn powerline chipset enables whole-home coverage of Triple play and IPTV over all power lines, coaxial wires and phone lines with MIMO (multiple input, multiple output) to connected devices.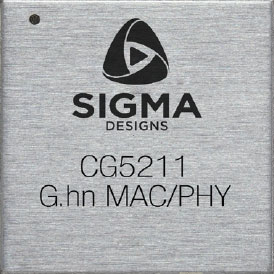 Tecom will use Sigma's CG5200 chip in the HD3000, a G.hn powerline MIMO bridge and the HD3010, another G.hn base WiFi Extender for in home networking. The G.hn base chipset offers a single wired international standard for connecting devices, with the ability to make every wall socket in the home apart of the same mesh network.
Prime Electronics will use the same powerline networking capabilities of the CG5200 in their new set-top box range.  The new set-top box can be shipped directly to the user's home because it is designed to be fully functional once it is plugged into the power socket, and unlike other set-top box this one will use the power cable as both the power feed and networking port.
The Sigma Design G.hn CG5200 chipset family includes:
Whole home coverage utilizing all existing wires
Consistent user experience and improved immunity to interference for reliable HD picture quality
Optimization for IPTV and Multicast systems for video and audio traffic
Embedded IP Stack for <TR069 remote management and diagnostics Capabilities>
PHY rate up to 1 Gbps per medium (coaxial, phone, power)
G.hn MIMO/SISO over power line - extending coverage, rates, and best immunity to interferences
Smooth and seamless migration from Home PNA to G.hn over coax
Customer self-install
Supports IPv6, IPv4.
Support of ITU-T G.hn standards (G.9960/1/2/3/4)
Support of HomePNA(TM) 3.1(ITU-T G.9954 standard)