Onkyo DLNA and Multi-Room A/V Receivers (TX-NR1008, TX-NR808 and TX-NR708)
Posted on: 2 June 2010
By:

chw staff
Onkyo has released details of their soon to be released A/V Receivers (TX-NR1008, TX-NR808 and TX-NR708).  The new models feature the latest in connectivity, sound quality and compatibility. All models offer the same basic features such as compatibility with Windows 7, DLNA 1.5 certified, integrated support of Apple iPhone and iPod, network audio streaming and multi-room support.
In terms of video all models are THX Select2 plus certified and 3D capable. Each model features seven of the latest HDMI 1.4a connections, to give the best in high definition viewing. They are built on Faroudja DCDI Cinema technology which removes jaggies during the video signal deinterlacing process, resulting in smooth progressive-scan video images.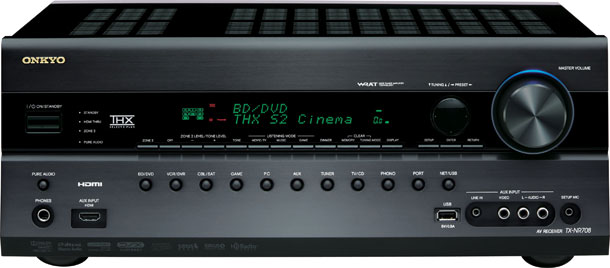 They also have the latest in sound and surround sound quality: Dolby TruHD and DTS-HD master, which are the two leading lossless codecs. For the best in surround sound the Receivers also have Dolby ProLogic 11z and Audyssey DSX.  The TX-NR1008 offers a 9.2-channel surround and 7.2-channel for TX-NR808 and TX-NR708.
This flexibility extends to multi-room set-ups. Onkyo's new A/V receivers open the door to distributed audio in up to three rooms in the home. With the TX-NR708, users can take advantage of a powered Zone 2 or a Zone 2 line out. Meanwhile, the TX-NR808 provides a powered Zone 2, along with pre-outs for Zones 2 and 3. Finally, the TX-NR1008 can deliver 5.1-channel surround sound in the main room, plus fully powered stereo audio of two different sources in Zone 2 and Zone 3.
Each Onkyo models includes Audyssey MultEQ, a room correction technology, which corrects for time and frequency-response problems caused by room acoustics, and which calibrates speakers for optimal audio balance throughout the listening space.
All models includes an Ethernet port for connection to you home LAN, PC or the internet. This is to facilitate firmware upgrades and access to a host of streaming internet radio services: Napster, Siius Internet Radio, Rhapsody, vTuner, Pandora, Mediafly and Slacker internet radio. Also supported are a wide range of file formats.
All three receivers have an iPhone®/iPod®-compatible front-side USB port that allows on-screen display of album art and navigation via the included remote. Other noteworthy features shared by this trio include an analog RGB input for video content from a connected PC.
The Onkyo TX-NR708 and TX-NR808 will be available at the beginning of July with suggested retail prices of $899 and $1,099 respectively. The TX-NR1008 will ship to dealers at the end of July and will have a suggested retail price of $1,399.
See also: Onkyo Network & Internet-radio-capable THX Ultra2 Plus AV receivers: TX-NR1007, TX-NR3007 and TX-NR5007