Yamaha Introduced AV Receiver RX-V2065 and Blu-ray Players BD-S1900 & BD-S1065
Posted on: 13 September 2009
By:

chw staff
At last week's CEDIA show in Atlanta Yamaha announced new additions to its range of Blu-ray disc players and Audio Visual Receivers.  Those introduced were the 7.1-channel network AV receiver RX-V2065 and the BD-S1900 and BD-S1065 players. According to Yamaha the Blu-ray player are complements to the RX-V2065 and other AV receivers in the class and to give customers the best in HDTV entertainment experience.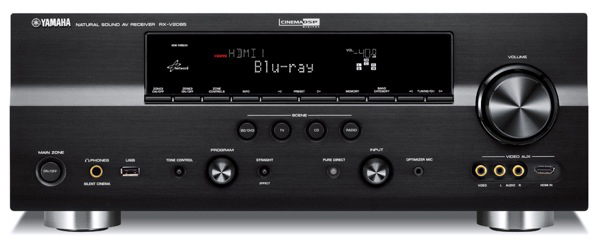 The RX-V2065 Audio Visual Receiver
The RX-V2065 receiver offers five 1080p-upscaling HDMI inputs and two HDMI outputs and the latest HD Audio Decoding formats (Dolby TrueHD, DTS-HD Master Audio, Dolby Digital Plus and DTS-HD) to maximize enjoyment of HDTVs, Blu-ray players, broadcast HD services and gaming consoles. An array of network functions include Rhapsody online music service compatibility, Internet radio, PC music file playback (WAV, MP3, WMA, AAC, FLAC), DLNA device support and compatibility with the Yamaha MCX-RC100 MusicCAST2 music distribution system commander.
Four pre-set SCENE buttons ("BD/DVD," "TV," "CD" and "Radio") instantly ready the entire system to deliver the desired entertainment experience by turning on the correct components and activating the proper inputs, audio and video features and surround mode combinations. The RX-V2065's new GUI on-screen display with eye-catching graphics, including component icons and album art, offers users a seamless means to access the content they want to experience.
The RX-V2065 also offers a built-in HD Radio tuner, which provides listeners with crystal-clear, CD-quality sound via existing AM/FM radio bands. Users can take advantage of program-associated text data and the ability to tune into multiple programs from the nearly 2,000 radio stations broadcasting HD Radio content.
Users can access the broadest range of today's popular content sources, including iPods via Yamaha's optional YDS-11 Universal Dock, and Bluetooth (A2DP) devices with an optional Yamaha Bluetooth Wireless Audio Receiver (YBA-10). Song titles from iPods are displayed on the model's front panel and onscreen display. The RX-V2065 is also Sirius/XM satellite radio ready, with XM HD Surround powered by Neural Surround. A front panel USB port allows playback of audio files from hard drives and MP3 music players as well.
The RX-V2065 features Yamaha's proprietary Pure Direct technology, a special listening mode that provides the highest possible audio signal purity. It can be used for both analog and digital sources, with two-channel or multi-channel inputs. Rounding out the model's advanced audio and video feature set are Yamaha's Digital ToP-ART and High Current Amplification technology with discrete amp configuration, ultra low jitter PLL circuitry for HDMI and digital sources, Deep Color (30/36 bit) technology, 120Hz/24Hz Refresh Rates and Auto Lip-Sync compensation, which automatically eliminates audio/video sync issues.
The RX-V2065 includes Yamaha's proprietary Cinema DSP 3D audio processing, with 17 DSP programs and adaptive DSP level, which gives music and movies an extra sonic dimension with standout presence. Silent Cinema technology makes it possible to hear large-scale surround sound through standard headphones and is ideal for late-night home theater listening when the rest of the family is asleep.
The RX-V2065 features Yamaha's proprietary Compressed Music Enhancer that restores dynamics to music files ripped from CDs or downloaded from the Internet. Adaptive Dynamic Range Control automatically increases the volume of softer dialog passages when overall system volume is turned down.
Home theater setup is simplified with Yamaha's Parametric room Acoustic Optimizer (YPAO) that automatically analyzes room acoustics and sets parameters for optimum sound quality at the touch of a button. Multi-zone and custom installation highlights include assignable amplifiers for bi-amping, powering presence speakers (back surround or front) or a second zone, as well as zone 2 and zone 3 on/off control from the front panel, an RS-232 interface, remote in/out and programmable +12V (100mA) trigger outputs. The RX-V2065 is sold with an easy-to-use preset remote control and an additional simplified remote unit.



BD-S1900 Blu-ray Player
Yamaha's new BD-S1900 Blu-ray player provides superior HD entertainment experiences and custom installation features. An ideal performance and style match for the company's high end receivers, including the RX-Z7, RX-V3900 and RX-V1900, the BD-S1900 supports BD-Live and BonusView features and offers full HD Audio decoding, 1080p/24Hz-compatible HDMI and 7.1 multi-channel output with 4 x 2-channel DACs.
An RS-232 interface, IR In/Out ports and HDMI CEC functionality enables the BD-S1900 to be easily integrated into custom installations.
BD-Live and BonusView features provide secondary video/audio for enhanced commentary and information, as well as Virtual Package features for existing and future entertainment options via USB memory.
For all HD Formats, direct bitstream and multi-channel Linear PCM outputs via HDMI are provided. Additional audio and video features include Pure Direct for high sound quality CD playback through analog audio output, 192 kHz/24-bit audio DAC, x.v.Color and Deep Color compatibility, 1080p playback for DVDs, photos and personal videos.
The BD-S1900 is compatible with Yamaha's SCENE automatic system control feature and has an onscreen display GUI for easy operation. It also features an aluminum front panel and gold-plated output terminals and cost MSRP: $699.95.



BD-S1065 Blu-ray Player
Yamaha's new BD-S1065 offers a feature set similar to the BD-S1900, including BD-Live and BonusView features, x.v. Color and Deep Color compatibility. With a soft blue LED display, this Blu-ray player is a perfect match for Yamaha's RX-V65 series AV receivers, including the new RX-V2065 and should retail for about $599.95.
Related Stories: