5 Top DOCSIS Gateway Modems to Boost Your Broadband Speed
Posted on: 19 October 2015
By:

Patrick Oliphant
When buying your home router have you ever stop to ask what some of the abbreviations mean? One of these is DOCSIS (Data Over Cable Service Interface Specification), which is the technology standard that helps to determine your broadband speed. As cable operators delay the role out of FTTH (Fibre To The Home) and try to get more speed out of copper wire, you will need a gateway router that support these latest standard to take advantage of the speed improvements. This will help to improve your download experience such as when you are streaming Ultra HD television content, playing real-time gaming and remote home monitoring.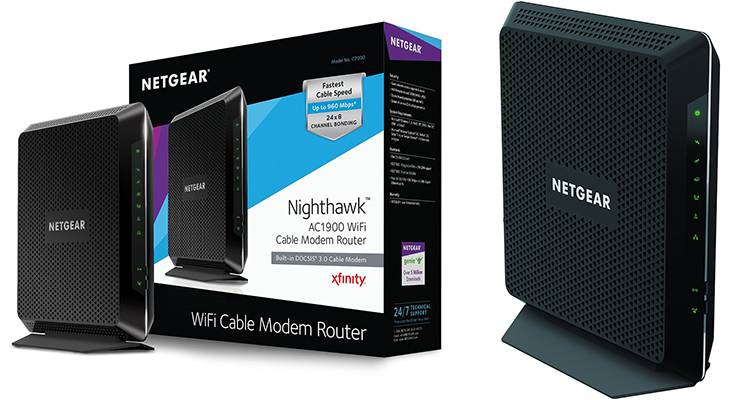 The latest DOCSIS standard is version 3.1, this offers a 100x increase in average data speed rate to your home and is 25 percent more efficient than earlier versions of DOCSIS. This means you are getting hundred more megabits of broadband bandwidth to enjoy your internet browsing.
Although your cable Internet bandwidth is shared with other cable subscribers in your neighbourhood, so you may see decreased performance during peak usage times. Having the latest DOCSIS high-speed cable modem, which supports multiple (24) bonded channels simultaneously means that you have a fatter "pipe" than your neighbours who's  cable modem might supports less download bonded channels.
Gateway modems that are DOCSIS 2.0 is considered obsolete and only supports one downstream channel and one upstream channel, if you are not sure you can check your model number on the internet. DOCSIS 2.0 modems can't avoid network congestion and can't support download speeds above 43Mbps, therefore, if you have one of these you are losing out on precious bandwidth.
Your cable provider might be upgrading its Internet infrastructure to provide faster and faster cable Internet speeds. To take full advantage of it you need the right cable equipment to support it. We have found the following home gateway routers that are DOCSIS 3.0/3.1 compliant, that will allow to get the most out of your super-fast broadband.
ARRIS TG1682
The ARRIS TG1682 is an advanced DOCSIS 3.0 residential voice gateway modem that combines 24DS channel bonding,  two analog voice lines, a 4-port Gigabit Router, MoCA 2.0 for superior in home coverage, and a Dual Band 802.11ac wireless access point into a single integrated device. The ARRIS TG1682 is part of Comcast's new XB3 service that will enable gigabit wireless speeds, IP video technology and integrated home automation and security capabilities to its subscribers.
ARRIS SURFBOARD SB8200 CABLE MODEM
The SURFboard SB8200 modem is capable of delivering 5Gbps downstream and 2Gbps upstream. It is the same as the Touchstone CM8200 only difference, the CM8200 is issued by service provider.  The SURFboard SB8200, allows you to take advantage of its 32×8 QAM  channel bonding capabilities on DOCSIS 3.0 cable systems, in effect doubling your effective bandwidth.  Switchable filters with full 204MHz upstream and 1218MHz downstream support reliable gigabit performance, while reducing interference in the home network. These are due on the market in 2016.
NETGEAR C3700 AND C3000
Although there are better available, the C3700 and the C3000 are great starter modem for most homes. They are DOCSIS 3.0 compliant with 8x4 cable modem channel and offer a top broadband speed of up to 340Mbps. They are both modem and router, meaning you don't have to purchase a separate router to distribute internet access to other devices in your home. They support the latest 802.11ac Wi-Fi standard and are backward compatible with 802.11n routers and offers speed up to 300Mbps. It supports WPS, WPA/WPA2-PSK, NAT, and has an SPI firewall and is IPv6-compatible.
As with other Genie-managed Netgear devices, you get Live Parental Controls, ReadyNAS for managing drives connected to the USB port, and a few other great features.
TP-LINK ARCHER CR700 AC1750
The AC1750 is a Wireless Dual-Band DOCSIS 3.0 Cable Modem design and built to manage bandwidth hungry tasks and applications that can slow down the entire network. The speed of the AC1750 allows you to enjoy HD and 4K video streaming, high-speed online gaming, and faster Internet downloads. The AC1750 offers up to 680Mbps cable download speeds and a blazing 1750Mbps dual-band Wi-Fi for internal devices. It also features six internal antennas and beamforming technology to deliver a more targeted and highly efficient wireless connection.
Four gigabit Ethernet ports for wired devices; two USB ports for sharing photos, music, and video with family and friends on your network; six internal antennas and high-powered amplifiers boost signal strength and reduce interference; Backwards compatible with 802.11a/b/g/n wireless devices and certified for XFINITY from Comcast and Time Warner Cable, Cablevision and Bright House Networks.
NETGEAR CM600
The NETGEAR CM600 High Speed Cable Modem with a Gigabit Ethernet port has the latest DOCSIS 3.0-certified 24x8 channel bonding modem technology that supports supports 24 download and 8 upload channels simultaneously offering speed of up to an incredible 960Mbps.  The CM600 supports IPv6 and is equipped with a Gigabit Ethernet LAN port, so you'll benefit from faster wired speeds when connecting your computer or your wireless router.
The CM600 Cable Modem is compatible of high-speed cable services from major U.S. cable Internet providers like with Comcast.  XFINITY customers to install the CM600 without a service call to customer service because of its web-based self-activation capability.
NETGEAR NIGHTHAWK AC1900
The Nighthawk AC1900 features a 1 GHz processor for wired and wireless networking, and a second 600 MHz processor that uses DOCSIS 3.0 to provide broadband speed of up to 960 Mbps thanks to the its 24 data channels used for the downstream network traffic. Like most Netgear devices, it comes with USB ReadySHARE port so you can play, view, listen to, and share your videos, photos, and music on connected TVs, game consoles, or media players.