Android Comes To UK Homes with The Binatone iHomePhone
Posted on: 12 November 2010
By:

Patrick Oliphant
The home phone has taken on a new face with the released of the new iHomePhone from Binatone. Released on the back of the iPhone, iPad and Windows 7 Phone; the iHomePhone is Android based and offers the functionalities similar to its Android based smartphone counterparts. The iHomePhone will allow users to browse the web, listen to music, chat to friends and even download apps. It is due out this month and prices start at £99.99.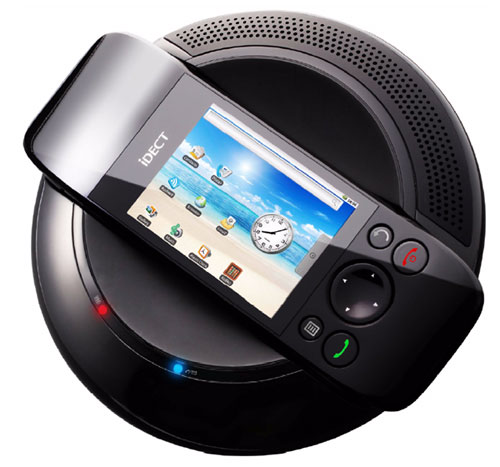 At Android Version 1.6, the DECT cordless digital phone has a full colour screen, a contact manager the hold up to 300 contacts, digital answering machine, up to eight hours of talk time and eight hours on standby. Additional smart features include email, alarm and calendar and clock among more – see features below.
 " With the iHomePhone, we've taken a smartphone, MP3 player, internet radio, netbook, tablet, cordless home phone and an e-reader and packaged them up into one neat, modern and sophisticated device, available to consumers at an incredible price," said Luke Ireland, Managing Director of Binatone.
Will the iHomePhone woo the UK market is yet to be seen but one thing is for sure this technology is here to stay and will only get more advance. My cordless is acting up at the moment this could be the time to upgrade to the iHomePhone.
iHomePhone Features
    * DECT digital cordless phone
    * DECT CAT-iq 2.0
    * Android Operating System
    * Wi-Fi connection (802.11 b/g)
    * 2.8"/ 7.1cm diagonal touchscreen (320 x 240 pixels)
    * Auto-rotate landscape / portrait orientation
    * Memory Card: Micro SD
    * Internet Browser (HTML, WAP)
    * Email client
    * Widgets and RSS feeds (Weather, News, Sport, Finance)
    * Internet Radio
    * YouTube video player
    * Music Player (MP3)
    * Built-in stereo speakers in docking station
    * Headphone connection on handset
    * Picture Viewer (Jpeg)
    * Contacts Manager (300 entries for phonebook and email)
    * 14 minute digital answer machine
    * Handsfree speakerphone
    * Call waiting caller ID
    * Logs your last 50 calls
    * Last 30 number redial
    * 20 Polyphonic ringtones
    * Alarm/ Clock/ Calendar
    * Up to 80 hours standby time
    * Up to 8 hours talk time
    * Answer machine
    * Caller display
    * Color display