Apple HomeKit is in the News Again
Posted on: 18 May 2015
By:

Patrick Oliphant
As the Apple Worldwide Developers Conference (WWDC) 2015 draws near Apple HomeKit is in the news again.  There are talks about a delayed launch and there are some who said HomeKit will be launch next month at WWDC, but who knows; this is Apple we are talking about when up to now we have not heard anything official. We will just have to wait and see.  One good news around HomeKit, is that Broadcom has been given the stamp of approval as a certified HomeKit components manufacturer even though they were announced as official partner last June.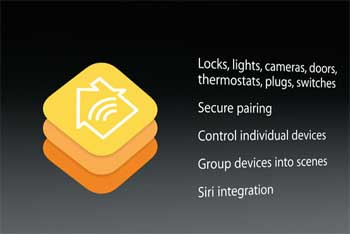 To many it might seem confusing that we are waiting for this launch when there are already products being launch as HomeKit ready.
Well Apple is very particular about any product that claims compatibility. As many have found out that not all USB cable claiming to work with Apple devices will work.  Therefore, the same thing applies to HomeKit, until a device is certified there is no guarantee, and Apple has not made that announcement yet.  This is what we are so eagerly waiting for, the official list.
Although some of these partners' processors are already being used in Apple's latest products such as the iPhone 5s and iPhone6, they still needed to be certified.
Broadcom received full HomeKit certification for its WICED (Wireless Internet Connectivity for Embedded Devices) chips. Broadcom said,  they are already shipping these components to device manufacturer, with the understanding that once HomeKit is fully ratify these devices will only need a firmware upgrade to be HomeKit ready.
Marvell customers building HomeKit compatible devices with Marvell's controllers and wireless components get the complete software development kit (SDK).  Marvell's HomeKit solution is based on their Avatar 88W8801 System-on-Chip (SoC) along with their 88MC200 chip, an ARM Cortex M3 microcontroller.
Even though these chip manufacturers are supplying the essential components for HomeKit devices and solutions, to be considered fully certified device vendors using these components will still need to go through the Apple  certification program MFi (Made for iPhone/iPod/iPad). This will get them the certification sticker that will give buyers the assurance that these devices are guarantee to work with HomeKit.