ARM Made Major Break Through With Cortex-A15 MPCore Processor
Posted on: 12 September 2010
By:

Patrick Oliphant

Small computing devices like high-end digital home entertainment, tablets, smartphones and large-screen mobile computing is about to get more powerful and faster, with the launched of the Cortex-A15 MPCore Processor. According to ARM, the Cortex-A15 Processor delivers a 5x performance improvement over today's advance smartphone processors and run up to 2.5GHz with a small energy footprint. With this level of performance we will be able to more with our mobile phones it also brings new applications to the mobile phone and small devices.
One area that stand to benefit from this break through in processor performance is the connected home; an area that has been receiving a wave of new technology and devices recently. With the growth in smart devices, wireless computing, HD and 3D Video and 3D navigation we need a processor that can facilitate this demand for power and performance. "This new processor will open a whole new realm of opportunities for smart mobile devices to replaces legacy x86 PCs," said Oliver Gunasekara, of  Symbian(R) Foundation.
During the development of the Cortex-A15 ARM worked with leading manufactures and software venders including Java Platform Standard Edition (Java SE), Android, JavaFX, Linux, Microsoft Windows Embedded Compact 7, Adobe Flash Player, Symbian and Ubuntu and with more than 700 ARM Connected Community members.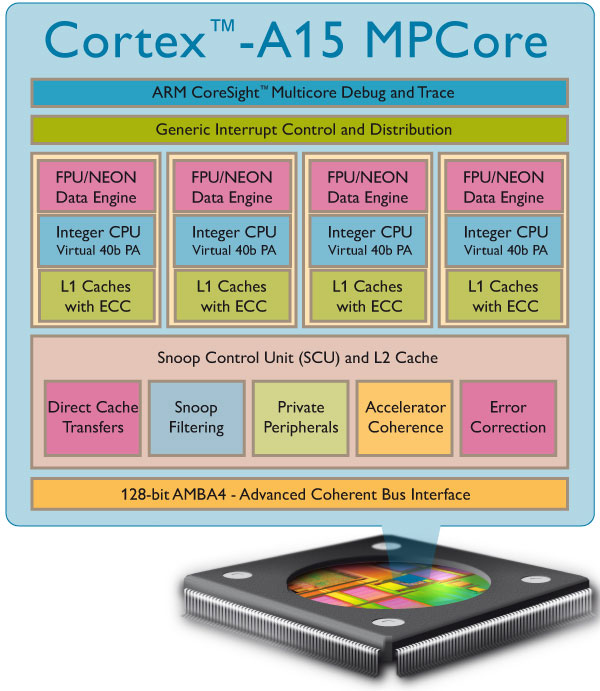 ARM said "The Cortex-A15 MPCore processor will be supported by specifically optimized ARM Physical IP that was developed jointly with the processor." Companies such as Texas Instruments, Samsung Electronics, St-Ericsson, Microsoft and others welcome the new processor and said they are looking forwarding to using the processor platform.
"The ARM ecosystem enables the mobile device experience consumers expect. With optimized Adobe Flash Player 10.1 support for the range of devices enabled by the ARM Cortex-A series, the full web experience scales across the continuum of current and future mobile connected devices. The launch of the Cortex-A15 marks a new era in mobile computing, and we look forward to working with ARM and the ARM ecosystem to ensure optimized mobile Internet experiences," said Danny Winokur, vice president, Flash Client Platform, Adobe.