Get a Smarter TV with Netgear NeoTV Streaming Player
Posted on: 6 November 2012
By:

Patrick Oliphant
If you are not ready to spend big on a Smart TV or you want to extend the features on your existing Smart TV, then these latest releases from Netgear could be the answer. The company has release three new Netgear streaming players (NeoTV, NeoTV Pro and NeoTV MAX) that give you access to some of the best on-demand and subscription services.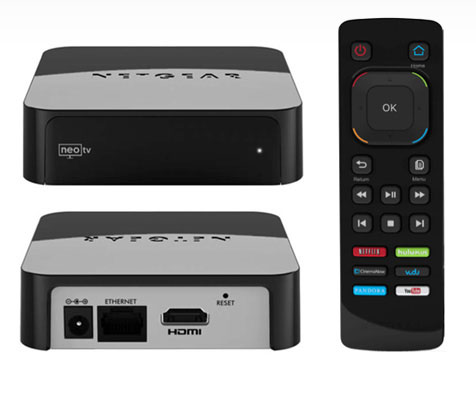 NeoTV(NTV300)
The Netgear NeoTV range can upgrade your standard TV to a Smart TV.  Also, if your existing Smart TV is limited in features you can attach a NeoTV to get the additional services or features. With NeoTV you can access thousands of movies, TV shows or songs from Netflix, Hulu Plus, Vudu, Best Buy, You Tube, Phapsody, Pandora and many others and stream them to your TV at full 1080p HD and listen in 5.1 Dolby Digital Surround Sound.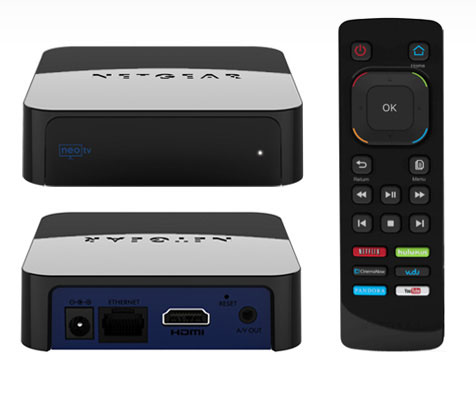 NeoTV Pro(300S)
You can connect any other players to our home network using Wi-Fi or wired Ethernet.  They all have their own remote that offers one-touch Quick start buttons, but if you want you can download Netgear's free remote app from Google Player for Android devices and Apple Store for Apple iPhone, iPad or iPod. The app turns your Smartphone and tablet into a simple touch screen remote control of the NeoTV Streaming Players.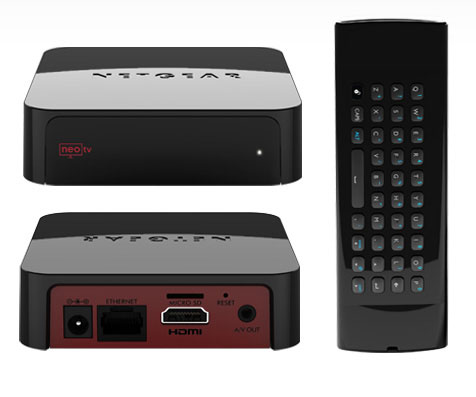 NeoTV MAX(NTV300SL)
As added bonus Netgear has added Intel WiDi (Wireless Display) technology to the NeoTV Pro (NTV300S), making it the first streaming player to have it. With Intel WiDi you can wireless display anything on your laptop to your TV in full HD (1080p) video resolution and 5.1 Dolby Digital Sorround Sound. NeoTV Pro can also able to connect to older TVs that don't have a HDMI port.
The premium model of the range, the NeoTV MAX (NTV300SL) offers more advance features, according to Netgear takes it beyond those of most Smart TVs. In addition to features offer by NeoTV (NTV300) and NeoTV Pro, The NeoTV MAX allows you to access and play media files from an external hard drive, via USB or DLNA media server.  The NeoTV also comes with a premium remote control with simple navigation buttons on one side and full QWERTY keyboard on the other, so you can easily type in the tiles of videos, songs or movies you are searching for. To top it off with NeoTV MAX you can stream full 3D movies from Vudu to 3D enable TVs.
What will it cost you, they are available at Amazon.com: NeoTV(NTV300) is priced at $49.99; NeoTV Pro(NTV300S) is for $59.99 and NeoTV MAX(NTV300SL) is $69.99.
NeoTV™ Streaming Player (NTV300)
NeoTV™ PRO Streaming Player (NTV300S)
NeoTV™ MAX Streaming Player (NTV300SL)
In the Box
NeoTV player
Remote control
Two (2) AAA batteries
Power adapter
Quick start guide

Networking
802.11n 150 Mbps WiFi (b/g/n compatible) with WEP, WPA and WPA2 support
10/100 Base-T Ethernet
On Screen WPS support for ease of setup

Video Outputs
480p (HDMI), 720p (HDMI), 1080p (HDMI)

Video Modes
up to 1080p high definition (HD)
16:9 anamorphic
4:3 standard

Audio Output
Digital over HDMI (5.1 surround sound pass-through and stereo)

Remote Control
Ergonomic NeoTV infrared remote control

Power Consumption
Less than 2W (typical) when streaming HD video

In the Box
NeoTV player
Remote control
Two (2) AAA batteries
Power adapter
Quick start guide

Networking
802.11n 300 Mbps WiFi (b/g/n compatible) with WEP, WPA and WPA2 support
10/100 Base-T Ethernet
On Screen WPS support for ease of setup

Video Outputs
480i (composite video)
480p (HDMI), 720p (HDMI), 1080p (HDMI)

Video Modes
up to 1080p high definition (HD)
16:9 anamorphic
4:3 standard

Audio Output
Analog stereo (mini-jack to left/right/composite video RCA)
Digital over HDMI (5.1 surround sound pass-through and stereo)

Remote Control
Ergonomic NeoTV infrared remote control

Power Consumption
Less than 2W (typical) when streaming HD video

In the Box
NeoTV player
Remote control
Two (2) AAA batteries
Power adapter
Quick start guide

Networking
802.11n 300 Mbps WiFi (b/g/n compatible) with WEP, WPA and WPA2 support
10/100 Base-T Ethernet
On Screen WPS support for ease of setup

Video Outputs
480i (composite video)
480p (HDMI), 720p (HDMI), 1080p (HDMI)

Video Modes
up to 1080p high definition (HD)
16:9 anamorphic
4:3 standard

Audio Output
Analog stereo (mini-jack to left/right/composite video RCA)
Digital over HDMI (5.1 surround sound pass-through and stereo)

Remote Control
QWERTY keyboard NeoTV infrared remote control

Power Consumption
Less than 2W (typical) when streaming HD video