ARRIS Showcases Digital Home Solutions at Expo Canitec 2013
Posted on: 30 May 2013
By:

chw staff
With the acquisition of Motorola Mobility, ARRIS is now in a position to be a bigger player in the network, broadband and TV market. They are at this year's Expo Canitec in Mexico to showcase some of their solutions for service providers backend systems and client devices. ARRIS's extended portfolio of solutions addresses the challenges of serving today's digital homes.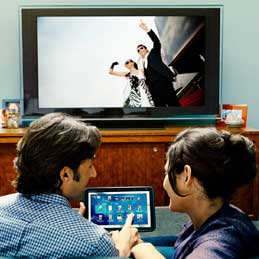 According to ARRIS their end-to-end platform simplify multiscreen complexity and "addresses increasing consumer demand for multiscreen and TV everywhere in three key areas: simplifying multiscreen complexity, transforming IP video delivery, and delivering the next-generation home."
To enhance content delivery ARRIS is offering: DreamGallery, a cloud base solution that navigation that makes TV as personalized, dynamic and rich as the Internet.
SecureMedia Encryptonite ONE HLS+, a platform that securely delivering live and on-demand content to various clients devices (including Google Android smartphones and tablets and Apple's iOS base devices, game consoles and hybrid set-top boxes).
Merchandiser, a n application that enhances the browsing experience with personalized bundle marketing for video, music, games and applications—across multiple screens, with an intelligent recommendation engine.
For the next generation of digital home ARRIS is offering a set of powerful hardware that serves as the centerpiece for a new generation of services, content, and devices. The DCX3600 has been selected has as one of the devices for this; It is IP based and combines powerful hardware, software and cloud technology, to deliver multiscreen, and time shift TV.
Another device is the MG5000 Series Media Gateway, a whole home media gateway and media player. It's a Ethernet router (optional 802.11n), multi-room HD DVR, telephony, and a DLNA-compliant server into one device.
source: arris