New Dune HD Pro Media Player Offers VUDU Streaming and THX Media Director
Posted on: 4 February 2012
By:

chw staff

With a combination of service partnership with VUDU on-demand streaming and technology collaboration with THX and Sigma Designs, Dune HD has launched a new line of media players.  At this year's CE Show, the company introduced the "Dune HD Pro", a model they called the ultimate in HD entertainment center. It features the latest in connectivity and media playback capabilities.
The premium Dune HD starts with three modules. There is the Dune HD Pro Master module, which features top quality Burr-Brown Digital to Ananlog Converters (DACs), to offer the best quality sound possible.  There is the option of integrating DVB-T/T2/C/S/S2 tuners and has it own HDMI 1.4 terminal for digital sound output. It features Sigma Designes' VXP technology which offers studio quality visual experience to the living room.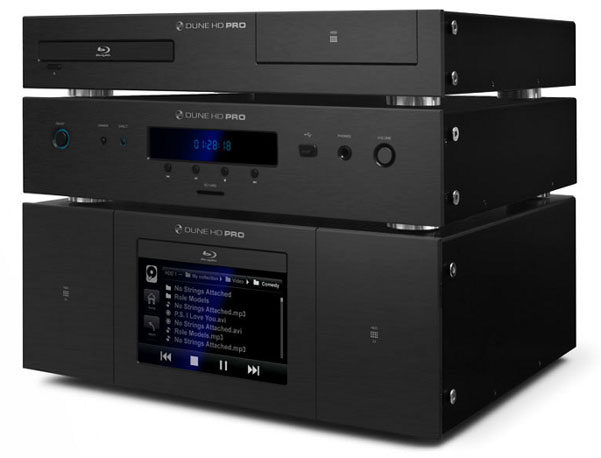 You can install up to four hard disks to have your local NAS (Network Attach Storage) for easy storage and fast access to media content, it supports RAID-array 0, 1 or 5 storage configurations.  The LCD touch-screen display on the Master module allows easy operation of your media library, search and discovery, as well as playback of audio and video content from other connected system.
The Dune HD Pro Extender allows you to extend the system by adding a hard-disk/blu-ray module (as the top module in the photo above), allowing the device to playback video and audio from optical media such as CD, DVD or Blu-ray.
The third component of the system is the Dune HD Pro Gateway; it allows you to access content from other systems in your home (Ethernet, eSATA and USB 3.0) or from the Internet.  You can also it to stream content to other Dune HD systems within your home.
The Dune HD Pro is due in Q2 2012 and was named an International CES Innovations 2012 Design and Engineering Awards Honoree for superior video and audio performance. Another model, the Dune HD Max was updated with THX Media Director technology, to enhance the home theater experience. The Dune HD Pro features the Sigma Designs SMP8910 media processor, which was introduced at CES 2011.