Baulogic Opens Show Home With Latest KNX Smart Home Technology
Posted on: 22 December 2010
By:

chw staff
A brand-new show apartment from intelligent building controls specialist Baulogic brings cutting-edge KNX technology to the home environment. Already specified for prestigious UK projects including Heathrow Terminal 5 and St Pancras International, the KNX system is now making its mark on modern home design.
The two-bedroom apartment showcases intelligent heating and lighting, multi-room entertainment, data networking and state-of-the-art fire safety and security systems, all adjustable at the touch of a screen. "New technologies such as KNX can change the way a home works, making it more comfortable, more flexible and easier to live with," says Baulogic director Mark Gedrych.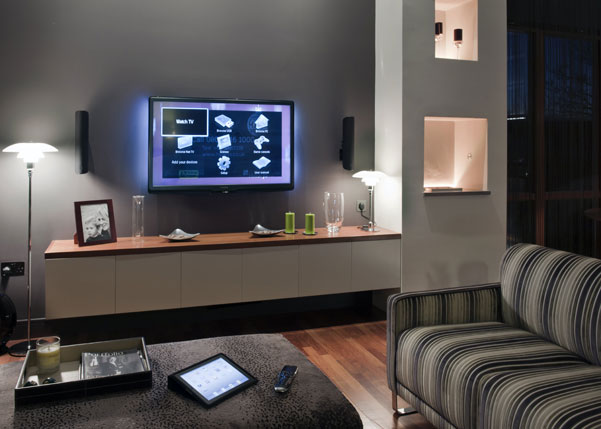 Contemporary styling and high-spec finishes throughout are testament to the system's aesthetic advantages, with sleek control panels replacing the usual host of switches, units and dials. Conveniently placed touch screens by Italian controls specialist Vimar and German electrical manufacturer Jung allow control of all electrical and electronic functions. Products by ABB, Theben, Bilton and GIRA also feature, since open standard KNX is compatible with more than 7,000 certified products, giving almost limitless options in terms of product and design specification.
The variety of task and feature lighting includes RGB LEDs, creating colourwash effects in the living room shelving alcoves. Passive infra-red detectors sense occupancy in specific rooms, and lights can be set to come on automatically when someone enters. Moods or 'scenes' can also be programmed in, allowing homeowners to create the perfect ambience for activities such as entertaining, reading or watching TV. All lighting can be operated from a single point – such as by the entrance or beside the bed – and can be synched in with other functions, making it possible to activate bathroom extractor fans but not overhead lights in the mornings, for example.
Heating is controlled in the same way, with the option of setting different programs for different rooms. Temperature is read at shoulder height, making for more accurate adjustment and improved comfort, while air conditioning or ceiling fans can also be linked in to the system.
Each room displays a different combination of curtain and blind styles, which can all be specified individually. Controlled centrally or – in the bedroom – from panels on either side of the bed, they can be programmed to open and close at certain times of day, or in response to changing heat and light levels. So blinds can rise automatically as it gets light outside, but fall if the sun becomes too bright, providing shade and helping to reduce solar gain.
The show home is fitted with high-end lossless audio equipment from Glasgow-based Linn. A music catalogue stored on a central media server or playlists from laptops, iPods and iPhones can be streamed into any room, while recorded programmes and entire DVD collections can be watched on any TV in the property. A small-scale home cinema gives a taste of the range of features available from a full Baulogic installation.
State-of-the-art security and fire safety functions available include entry video viewable from various convenient points inside the building, plus automatic lighting and unlocking of exit routes on activation of smoke alarms. The intelligent system can even be programmed to learn lighting usage patterns, then simulate these when the property is unoccupied. Security systems can be controlled remotely via a secure online platform, making it possible to grant access to the building without having to be on the premises, while notification of any security breach can be sent straight to a nominated mobile phone.  
A major advantage of a Baulogic installation is the saving in terms of cost, time and carbon footprint. The installation of all electrical and electronic systems can be project managed by a single contractor using minimal cabling, resulting in a complete package that is faster, cheaper and more straightforward than the alternatives. Cost and environmental benefits continue long after installation, with the intelligent system putting an end to unnecessary heating and lighting when areas are not in use. As demonstrated throughout the show home, the system is fully compatible with the latest low-energy LED lighting, which consumes around one fifth of the energy used by conventional halogen downlighters. Overall, a Baulogic installation can reduce a property's running costs by up to 40 per cent, with visual feedback on current and historical energy use easily accessible via touch screen. The non-proprietary nature and single control cable of the KNX system make it essentially future proof, ready to accommodate extensions, upgrades or even complete changes in building usage requirements with ease.
"Celebrating its 20th anniversary this year, KNX is revolutionising the smart home market," says Mark Gedrych. "Baulogic intends to remain at the forefront of this revolution, ensuring that our customers benefit from the world's only open standard for building control and automation."
 
Baulogic has a wealth of experience in designing, installing and supporting intelligent building controls. Whether working for individual homeowners or on large commercial projects, the company's expert, multi-discipline team offers a flexible and comprehensive service that can be tailored to individual budgets and timescales.
"We hope that visitors to our show home will leave with a better understanding of how homes can be wired to provide a future-proof, low-energy and comfortable living environment," concludes Mark. To arrange an appointment at the show home, call 01223 866966 or visit www.baulogic.com.